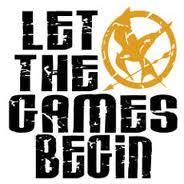 Create Hunger Games Characters!!
I will make a simulation Hunger Games story, but you create the characters!! Make up some tributes, prep team, game makers, and family/friends for me to use, use the following. Please be creative and realistic. DO NOT BASE THESE OFF OF THE BOOKS, i will not use them, or i will change them, thanks!

Name:
Age:
Gender:
District:
Appearance:
Personality:
Strengths:
Weaknesses:
Greatest Fear:
Weapon of Choice:
Weapon of Horror:
Favorite Color:
Does he/she have a sense of humor?:
Lefty, Righty, or Ambidextrous?:
Token (ex: a hair pin from best friend):
History:
Family:
Private Training Session with Gamemakers:
Interview Angle:
Cornucopia Strategy:
Battle Strategy:
Reaped/Volunteered:
Allies (yes or no):
Prefered typle of Arena:
Do they have a sickness that may harm themselves? (paranoia, frequent dizzy spells, seizures, etc)
▼Scroll down for more questions▼
Answers (
15

)

vote up or down the answers
Name: River Blue (Nickname: the shoe)
Age: 13
Gender: female
District: 6
Appearance: has long brown hair thats always in a ponytail, always wears t-shirts and yoga pants
Personality: Smart, has a nasty temper, loner, hates boys can be mean
Strengths: Math, kicking (thats how nickname formed)
See More▼

Weaknesses: doesn't trust anybody in her class EVER
Greatest Fear: principal, being called weak
Weapon of Choice: shoe/foot, smarts
Weapon of Horror: bow and arrow
Favorite Color: blue
Does he/she have a sense of humour?: kinda, sometimes mean humour
Lefty, Righty, or Ambidextrous?: righty
Token (ex: a hair pin from best friend): 156 year old pocket watch
History: parents died when 8, was bullied by boys leading to a huge lifelong hatred
Family: Twin sis Eiraté
Private Training Session with Gamemakers: kicks weakly at a dummy, alas getting a lower score on purpose
Interview Angle: smart and quiet
Cornucopia Strategy: RUN AWAY!!!
Battle Strategy: already be in tree right above them, falls thrum tree and lands on them feet first
Reaped/Volunteered: reaped
Allies (yes or no): no ( but if theres another girl her age yes )
Preferred type of Arena: garry oak ecosystem with lots of trees
on March 20, 2014
Name: Piper Williams
Age: 15
Gender: Female
District: 2
Appearance: Has light brunette hair which is shoulder length and is usually tied in a pony tail, white skin (but not pale like a vampire), has turquoise eyes and is about 5'6"
Personality: Slightly intimidating when you first meet her and can have a cold side to her, although once you get to know her she can be merciful. She's good at using her brain to work out situations and thinks before she acts most of the time.
Strengths:
See More▼
Running long distances, resistance, fighting with melee weapons like swords and axes.
Weaknesses: When attacking, she usually has her defences down more than she should do so is easier to be killed in that way. She can also be a little too cocky at times.
Greatest Fear: Defeat, especially if she loses to a rival/enemy.
Weapon of Choice: Sword, axe, knives (anything down those lines).
Weapon of Horror: Something quite a bit stronger than her weapon (I have no idea).
Favorite Color: Midnight blue
Does he/she have a sense of humor?:
on November 11, 2012
Mike Peterson
Age 13
Male
7
Has muscles (not ripped) white skin, buzz cut, 5' 8"
Clever , smart
Strong, stealthy, uses logic
See More▼

Camoflauge, quiet, runs fast
Sloppy
Death
Sword
Bow and arrow
Forest green
A little
Ambidextrous
His first knife
Father died in logging accident
Mother, two brothers and two sisters
Great (10 score)
Humorous
Grab close things and run
Wait
Reaped
No
Forest
(Please make him win)
on November 11, 2012
Name:Luis Marin
Age:15
Gender:Male
District:12
Appearance:White Skin Black Hair, Rather Tall
Personality:Smart And Quiet
Strenghths:Stealthy,Strong,Uses Intellect (Smarts) To Advantage
See More▼

Weaknesses:Slow Runner
Greatest Fear: He Has Paranoia (Mental Illness He Thinks Everyone And Everything Is Out To Get Him)
Weapon Of Choice:Spear,Knife,Despite Paranoia He Can Make And Camoflauge Traps Made From The Enviroment (Trip Wires,Pit Falls W/ Spikes Made From Sharpened Sticks At Bottom,Home-Made Bombs,Etc.
Weapon Of Horrorue To Paranoia He Fears Anyone With A Weapon
Favorite Color:Sky Blue
Sense Of Humor?:No Hes Quiet W/Paranoia=No Sense Of Humor
Lefty Or Righty?:Righty
Token:Mocking Jay Pin
History:He Moved To District 12 When He Was 8 Watching The Brutality Of The Hunger Games Every Year Makes His Paranoia Worse
Family:Mom,Dad,Brother
?
Interveiw Angle:Quiet
Cornucopia Strategy:Take A Back Pack,Wait For Every One To Be Gone Then Take What He Can
Battle Strategy:Only Attack When Attacked,Use Traps To Advantage
Reape
on November 11, 2012
Name: Hope Elizabeth
Age: 12
Gender: female
District: 12
Appearance: tall for her age, blond hair, green eyes, tan, long hair
Personality: sneaky, shy, quiet
Strengths: clever, great hunter, quick
See More▼

Weaknesses: hardheaded, doesn't ask for help, gets her self into LOTS of trouble with the law
Greatest Fear: losing everything she has left
Weapon of Choice: bow and arrows
Weapon of Horror: sword
Favorite Color: black
Does he/she have a sense of humor?: sometimes
Lefty, Righty, or Ambidextrous?: ambidextrous
Token (ex: a hair pin from best friend): a necklace from her mother
History: lost her family in a house fire and has been stealing stuff to survive for 2 years not been caught yet
Family: died in a house fire
Private Training Session with Gamemakers: yes almost shot one of them by accident
Interview Angle: scared and shy
Cornucopia Strategy: grab anything she can and run into the woods
Battle Strategy: make an alliance then kill the when games are almost over
Reaped/Volunteered: reaped
Allies (yes or no): yes but part of her battle strategy
Prefered typle of Arena: woods great oak tree or weeping willow tree
Do they have a sickness that may harm themselves? (paranoia, frequent dizzy spells, seizures, etc.) no
on January 26, 2015
Name: Sage
Age: 17
Gender: Female
District: 23
Appearance: Attractive, with long dirty blonde hair
Personality: half mean popular girl
Strengths: Lip gloss
See More▼

Weaknesses: Fat green sweaters
Greatest fear: Evil clowns
Weapon of choice: Knife
Weapon of horror: Spear
Favorite color: Blue
She does not have a sense of humor
Lefty
Token: Well, a coin she found
History: She just went to a normal school but she swallowed a tarantula at the age of 11
Family: Mom, Rosie dad, Jonathan, big brother, Jake
Private training session with Gamemakers: she got a 7, and she forgot the rest
Interview angle: Attractive
Cornucopia strategy: She can somehow read minds and is good with charming and a swiss army knife
Battle strategy: Stabs someone in the back, then punches them in the back
Just volunteered for Jake
Allies: None
Preferred Arena: Near an ocean
Yes. Dizzy spell.
on October 10, 2013
Name: Alice
Age: 14
Female
District: 11
Appearance: Looks like Rue.
Personality: Won't kill unless she has too
Strengths: Good at tree-climbing, knifes, bow and she is very strong, though she doesn't look it.
See More▼

Greatest fear: None
Weapon of choice: Bow and Arrow
Weapon of horror: Spear
Favourite colour: Silver
She does have a sense of humour.
Ambidextrous.
Token: a book
History: She managed to get a lot of food for her family, and saved many people.
Family: Younger sister, aged 10, called Eve and a younger brother, aged 12, called Thomas
Private session with the game-makers: Got a 9, she showed them her skills with a knife and bow-and-arrow
Interview angle: Cute
Cornucopia strategy: Runs and gets a few knives, a rucksack, and a bow-and-arrow, then runs away again.
Battle Strategy: Hides until only one person is left and then shoots them with an arrow.
Volunteered for her little brother.
Allies: none
Preferred Arena: One with a forest
No.
on September 13, 2013
Lilian
Age 12
Female
Three
Light skin, short blonde hair, cute almost pink eyes
Cute, small, fluffy, vicious
Any weapon that draws blood and kills
See More▼

None
Blood red
Cold sense of humor
No idea
Necklace with a hawk on it from pet hawk
Used to be cute and sigh until one day she killed her whole family and became a murderer
None
Knife training
Far away so they don't gets killed
Run in kill everyone grab the good stuff, run
Kill, stab from behing, kill
Volunteered cause she wanted to kill
No
Fores arena so she can sneak up on there prey
Constantly thinks she's a hawk and eats mice
on May 28, 2013
Name:Tiger Sharpce
Age:14
Gender:Female
District:2
Appearance:Shoulder length brown hair,blue eyes,very skinny
Personality:Clever,Sly,sometimes sweet,protective over loved ones
Strengths:She is skinny and small and can fit into small spaces,she is good with knives and the bow
See More▼

Weakness:Large bodies of Water (afraid of drowning) and Spears
Greatest Fear:Heights
Weapon of choice:Knives
Weapon of horror:Spear
Favorite Color:Ocean Blue
Sense of Humor:Yes.But doesn't like to admit it
She is a righty
Token:A bracelet with charms that represent each of her family members
on May 27, 2013
Name:
Age:13
Gender: Female
District:
Apperance: Waist long very dark brown hair, normally in a high pony tail, then braided, big, dark brown eyes, pale olive complection, very lean and fit.
Personality: Sweet, Very bubbly, And energetic, but she will get revenge, and is a vegiterian.
Strengths: She is flexible, and can run very fast at short distance, but can keep running for a very long distance, just not as fast, and is clever when it comes to survival.
See More▼


Weakness: Is claustraphobic ( Can not stand in small, tight places ) when holding a grugde, will get revenge, no matter at what costs.

Greatest fear: Blood ( not very helpfull in the hunger games!) like getting a sick feeling when looking at it.

Weapon of choice: Two daggers, always tucked in her belt, fights with, and throws.

Weapon of horror: blood splattered daggers, always carving a cross on the left shoulder after kills.

Favourite colour: Sunshine yellow

Sense of humor: does like pranking

Is an ambedextrous.

Token: A marble stone, in a e
on April 29, 2013
Name: Zoe. no last name
Age:15
Gender: Female
District: 4
Apperance: long brown hair, green eyes, not pale but not really really tan eaither. always wears hair in ponytail.
Personality: Brave, a dominate leader, competetive, but very very sweet on the inside.
Strengths: Intelligence, strength especially, swimming, climbing and speed.
See More▼


Weakness:always wanting to be right. physical weakness, having to hurt a friend.

Greatest fear: being humiliated

Weapon of choice: mace because of incredible strength.

Weapon of horror: blody spear, carves mark on it after each kill. preferes mace though.

Favorite color: sea blue

Sense of Humor: Tries not to show it but loves jokes and having fun.

is a righhty

Token: a neclace with a seastar charm.

history: orphan, beaten as child, learned to be strong and trust noone.

family: orpahn. no family.

Training session. gets 11 by showing speed/agility and massive strength

interview: almost stabs interviewer

cornicopia stragedy: runs strait for cornicopia, grabs mace
on April 18, 2013
Name: Willow
Age: 12
Gender: Female
District: District 10
Appearance: Silver hair (tangled), red eyes, slim, ratty grey rag (clothing), and looong finger nails
Personality: Shy, brave, trustworthy
Strengths: Bow, running, swimming, climbing, blending in
See More▼

Weaknesses: toe gone
Greatest fear: Being rejected
Weapon of choice: Bow
Weapon of horror: sword with dried blood and her name on it
Favorite color: bronze
Sense of humor: Bathroom
Left or Right: Left
Token: small metal rod, also with her name
History: Living alone in darkness
Family: None
Training Session: fierce
Interview angle: Calm with patient answers
Cornucopia strategy: Hide, then jump out and kill. Then grab for backpack
Battle Strategy: Sneaking up behind people
Reaped or volunteered: Volunteered
Allies: Rue
on February 16, 2013
Name: Hornet (Nickname: Real First Name and Last Name Unknown.)
Age: 13
Gender: Female
District: District 5
Appearance: Pale, long black braid down to her waist, tucked in at her belt. Dark eyes.
Personality: Cold. Unforgiving. Mysterious. Deadly.
Strengths: Traps, Knives, Tricking, Running, Athleticism, Cunning, Clever
See More▼

Weaknesses: Remembrance of her dead brother. Physical pain. Can't fight people as well when closer to them.
Greatest Fear: Losing her second Brother
Weapon of Choice: Knives
Weapon of Horror: Jewel encrusted handle Dagger
Favourite Colour: Black
Sense of Humor: No, Unless you count Sarcasm
Left or Right: Ambidextrous
Token: A piece of thin rope tied around her wrist. On it is a Small metal Ring.
History: Two Brothers. One died in a car accident when Run Over. Other Family Unknown.
Family: Two Brothers
Training Session: Feirce, Deadly
Interview Angle: One answer syllables. No Direct or Friendly answers.
Cornucopia Strategy: Run Into The Trees. Don't Go to The Cornucopia unless Urgent. If So,
on November 17, 2012
I THINK THIS WILL BE THE PERSON TELLING THE STORY:
Name: Jaezey L Quist
Age: 15
Gender: Female
District: _IDK_
Appearance: small, slender, dark hair and eyes
Personality: stubborn, kind when neccessary
See More▼

Strengths: endurance, flexible, lightness, cunning, fast, can climb trees, smart
Weaknesses: lacks strength, direct speed, expierence, aim in general, killing people, don't know much about plants
Greatest Fear: dying with regrets
Weapon of Choice: machete
Weapon of Horror: brute strength, bow, sword
Favorite Color: green and purple
Does he/she have a sense of humor?: yes
Lefty, Righty, or Ambidextrous?: ambidextrous
Token (ex: a hair pin from best friend): something simple, like a lucky hair-tie
History: divorced parents since 4, helps out with siblings alot, good grades, does sports
Family: strict mom-like step-mom, short-tempered dad, carefree mom, weak little 9 year old brother, strong 5 year old sister, crazy, strong 2 year old brother
Private Training Session with Gamemakers:
Interview Angle (sweet, stubb
on November 11, 2012