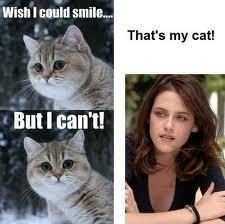 Who likes Kristen Stewart, the Actress (Bella of Twilight)
Twilight, SnowWhite and the Huntsman, etc ... I don't like her. She never has any facial expression even though her character, Bella, in Twilight is supposed to not have a poker face at all!
▼Scroll down for more questions▼
Answers (
12

)

vote up or down the answers
Ya i really think she cant act and is emotionaless! Hahaah she is NOT the bomb diggoty XD
on October 02, 2012
lol "But I can't!" I just giggle at that picture every time!! You are supposed to tell exactly what Bella was thinking... but Stewart has the best subconscious poker face ever!! >
on October 01, 2012
Nice picture. And I don't like her. She has as much emotion as a plank of wood. Hang on, I take that back. She has less emotion than a plank of wood.
on September 30, 2012
Personal opinion- I don't personally think she's a good actress. She puts no feeling or emotion into her acting. Maybe she could improve if she just-oh, I don't know-SMILED?


I love to see you smile smile smile!
Yes I do!

*carries on singing*
on December 31, 2013
Lol, not me. Personally I don't think she's a good actress. Just stating my opinion. She should put more emotion into her acting.. Her acting is pretty much.. Lifeless.
on July 03, 2014
I don't like her that much. She's not a good actress either. Quoting everyone else, she could at least SMILE once!
on July 02, 2014
lol i put *what* but the *w* turned into an *s* on accident and Qfeast called it abusive verbal content!! lol
on October 14, 2012
... but if she is such a good actress shouldn't she show emotion all of the time?? Snow white and the huntsman had TONS of emotion, and Bella was supposed to show nothing but what she was thinking!!
on October 14, 2012
Kristen does show emotion but in a different way if you watch some of her other movies like panic room or the runaways she is a really good actress just not in twilight and snowwhite and the huntsman
on October 08, 2012
on July 26, 2013