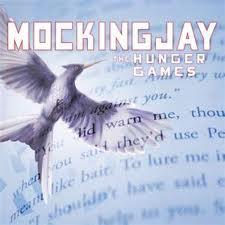 Was Mockingjay a Good Book??
I loved the first 2 books... but it took FOREVER for Mockingjay to take off... It got good once we started getting interviews from Peeta. On like page over 100 some.
***Probably some spoiler alerts!!*** What do you think??
▼Scroll down for more questions▼
Answers (
12

)

vote up or down the answers
I think that Gale should've jumped off of the ladder and saved Finnick, by sacrificing himself. Then Finnick would live with Annie and his son, but no one but Katniss and his family would miss Gale because he was a jerk and tried to be better than Peeta and kill defenseless people (the nut)
on October 14, 2012
Mockingjay was a really good book!
on November 16, 2012
DO NOT READ IF YOU HAVE NOT FINISHED OR STARTED MOCKINGJAY
Well, I can hardly say i twas my favourite. It took a while to get into and it didn't have a good plot like the first two. I also agree with backtohumans that all the dying was a bit extreme but well, that's the Hunger Games for you...
on October 09, 2012
still on like page 20 so far so good
on October 12, 2015
on June 09, 2015
its good but the end is confuzing!
on July 15, 2014
DO NOT READ IF YOU HAVE NOT FINISHED MOCKINGJAY!!!!!!!!!!!
I think it was a bit less exiting in the beggining, but all good things take time because one part I found my self crying at ( I cry at the weirdest times) was when Kaniss and Buttercup were crying together about Prim, and when she was sleeping Buttercup took gaurd of her, and in the morning she gave him her bacon, I just think that was my favoutite part, since they hated eachother so much in the beggining!
on June 22, 2013
OMG great book!!!!! A little slow in the begining and it gets really sad when PRimrose dies from exploding parachutes (OMG SORRY SPOILER ALERT!!!!!!!!
on June 14, 2013
on December 25, 2012
More people died in each book, and the characters dying in each book were more and more important to the plot. Too many people died in that series. I tried to count how many of the main characters were still alive and I didn't get a very high number.
on October 09, 2012
DO NOT READ IF YOU ARE NOT UP TO OR FINISHED MOCKINGJAY
Right, I warned you all. Yeah, it literally took forever for it to take off. I can't say I loved it since too many of my favourite characters died (Finnick, Prim etc.) but it certainly was good when it got going. One criticism I'd give it is that Finnick's death scene was a paragraph that you'd think was any other and would be able to read it without quite knowing what had happened until the end of the chapter. That annoyed
See More▼
me a lot. And Prim's death got an entire end of a chapter to happen... favouritism...
on October 09, 2012