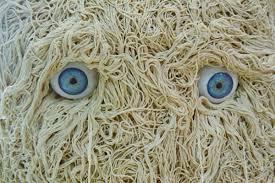 Scary Spaghetti!
Name: Scary Spaghetti
Preferred Sauce: Marinara
Catch Phrase: "I hope you ordered a side of scares..."
Looks: A large glob of spaghetti with two eyes.
Back Story: The Scary Spaghetti was made by a master chef but was thrown into a dumpster. The remains of a potion mixed with the spaghetti and made it come alive! It wanted revenge so it became a Creepy Pasta.
Nickname: SS
Personality: Vengeful, secretive, rude, etc.
Popularity among other Creepy Pastas (On a scale of 1-10 1 = least 10 = Most): 6
MORE PASTAS COMING SOON!