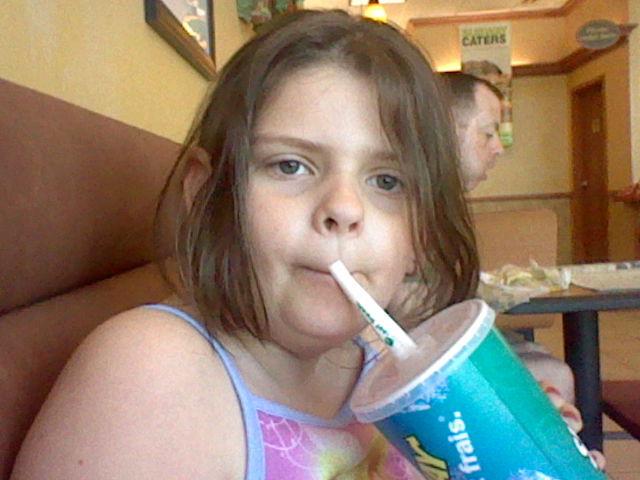 Can someone give me advice?
My sister is fat.I know it's not nice to say it,but she is.She doesn't fit in ANY of her clothing and i'm worried.She just doesn't know when to STOP eating.Can someone give me some advice?(That's her in the picture)
▼Scroll down for more questions▼
Answers (
15

)

vote up or down the answers

Answer Link
maybe she has an eating disorder. here are a few tips:
1. Tell your mom to get only a few things at the grocery store
2. make an excersise program where if she excersises an hour each day for a week she gets a treat on the weekend
3. don't buy junk food
4. don't buy those losing weight pills and medicines, etc, because they DO NOT WORK, they are just bad for the body and can MAKE IT WORSE
5. excersise AND eat healthy, just doing one or the other doesn't work.
I hope this
See More▼
helped :D
on April 08, 2014
Answer Link
She's a little kid. She isn't supposed to be a thin twig. Let her be a kid, encourage her to play and she won't have a problem. America is mistaking anorexia for beauty, and America is t the only one guilty for this. If you treat someone the way they should be they'll become what they're capable if becoming. Tell her she's beautiful because there's only one her. There can never be a more beautiful you.
on May 21, 2013
Answer Link
I think it's so nice that you care so much about your sister! Here's what I would do. Try to help her eat healthier by eating healthier yourself. Also exercise with her and be there for her. I hope my advice was helpful and good luck!:)
on June 21, 2013
Answer Link
on December 04, 2018
Answer Link
Well, It is good for a kid to have fat because it helps them keep warm. But if you think this is becoming an addiction then tell her! If she doesn't listen tell your parents and if they think your paranoid then dont do anything you did what you needed to do. But you could hide all of the foods she might eat (junk food) in till she gets into shape.
on December 14, 2016
Answer Link
First of all women are built to have meat on their bones. Also you're sister looks young, your parents need to do something about it I hate to say this but it's your parents' fault for not giving her rules. Exercise with her help get her motivated if you're worried about it and help her eat healthy foods. Its one thing to eat a lot of healthy food than to eat a lot of bad foods!
on March 01, 2014
Answer Link
Tell her to exercise daily, and maybe start eating those loose wait bars, they sell them at walmart, the brand name is SKINNEYS, they tast like chocolate but they make you loose wait.
on February 02, 2014
Answer Link
tell it 2 her strtaight, but politely. that way shell become more consious of herself & try 2 lose weight. worked 4 my sis.
on October 26, 2013
Answer Link
play with her, if she doesnt get a bit skinnier, its not her fault not everyone gets to choose how they look. BTW shes 9 like me!
on August 10, 2013
Answer Link
on July 26, 2013
Answer Link
just say lets go pla outside and d a lot
btw im sorry you are sad
on July 09, 2013
Answer Link
on July 03, 2013
Answer Link
I wouldn't call her fat if she's just a kid. Just play with her and get some exercise
on May 23, 2013
Answer Link
She needs you to help, but not push her. If she likes any sports, play with her.
on May 21, 2013
Answer Link
on December 05, 2018