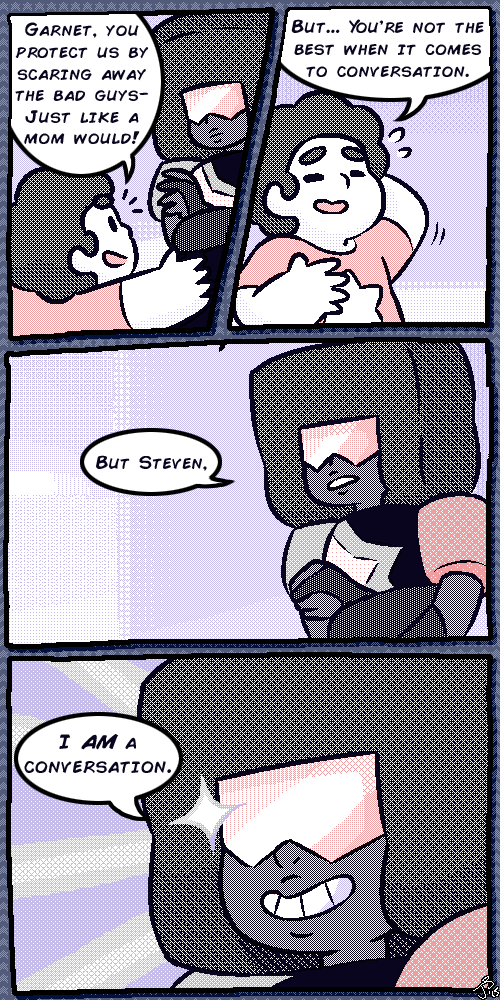 Steven wants to go to School! :)
Steven was talking to his friend, Connie, on his cell phone.
"So, school is fun?"
"Mostly educational. But yes, I guess you could say that." Connie answered.
"Then can I go?"
"Well, I don`t know. First of all, you would have to ask the Gems. You know, Garnet, Amethyst, and Pearl. And, I don`t know how other students would act around a human-gem hybrid." Connie told Steven.
"I think they would say yes! And why would other students tease me? I`m like, a really fun guy!" Steven said.
"Well, not all humans are-how should I put this? Friendly..."
"What do you mean?"
"Well, Steven, some humans are considered "bullies". They tease other kids who are different. I just don`t know what they have against them."
"That`s awful! But, me and the Crystal Gems save the world! I bet they would understand!"
Steven says bye to Connie then runs to the temple.
"Pearl, Garnet, Amethyst!" He yells.
Suddenly, Pearl`s door opens, then Garnet`s, then Amethyst`s.
"What is it Steven?" Amethyst asks.
"I want to go to school! Connie says it`s fun and educational!"
"But...uh....why? You know you learn everything you need to know from us." Pearl asked.
"If Steven wants to give school a try then we should let him." Garnet says to the other two Gems, mainly looking at Pearl.
"Oh, and P, to change your mind, he said it`s" Amethyst shows the same face she did in Cheeseburger backpack, "educational!"
"Fine." Pearl said in a miserable tone.
Greg comes over and shows them how to apply Steven for his "school". Pearl looked at one of the questions asked. "Describe your child."
"Well, what should I put?" Pearl asked.
"He is part Gem, part human." Garnet said.
"And he is fun!" Amethyst added.
Pearl typed in. 'Is half Gem half Human. Likes to have fun. Is very kind and caring.'
"Done!" Pearl said.
Garnet leaned over.
"Not quite." She said.
Pearl then scrolled down. 50 more questions? She then leaned back in her chair. This was going to be harder than she thought.