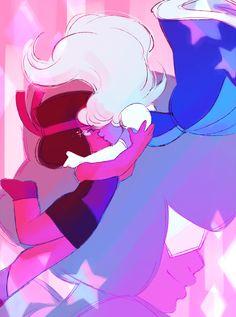 The Thought.
Steven Universe has a lot of thought put into the mix.
It`s not like "Teen Titians Go" or "Adventure Time" in any way.
This show has a lot of feeling into it. It puts a lot of thought and care into almost (some episodes are just...even I hate them and I love Steven Universe!) every episode. Like this quote from Rose`s Scabbard.
"Oh, what would she (Rose Quartz) think of me now?"-Pearl
"Well, I think you`re pretty great!"-Steven while he`s hugging Pearl.
Or this quote from On the Run:
"I just never thought of this as you. None of this is your fault. You didn`t build this place. I...I`m sorry, Amethyst. You were the one good thing that came out of this mess. I always thought you were proud of that."-Pearl
What I`m trying to get through is that the creators of Steven Universe put very clear effort into every episode. They don`t just make up a story to make up a story. They make it for a reason. Every episode will have that shown. No episode was made just so the creators could get something made. They make it with heart.