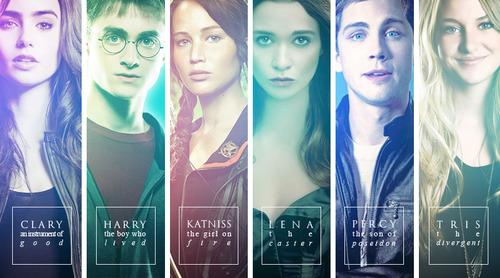 Name your favorite...
Answer all these questions and i'll follow you (except if i'm already following you.Start with the title then read each of the endings and answer them):
-Harry Potter character(s)?
-Austin & Ally character(s)?
-Hunger Games character(s)?
-Percy Jackson character(s)?
-Jessie character(s)?
-Narnia character(s)?
-Mickey Mouse character(s)?
-Aladdin character(s)?
-Twilight character(s)?
-Anne of Green Gables character(s)?
I will post my own answers to the questions first.Have a great summer!
▼Scroll down for more questions▼
Answers (
13

)

vote up or down the answers
HP-Harry, Ron, Sirius
A&A- Trish, Dez, Austin, and Ally
HG- Katniss
PJatO- Percy, Nico, Thalia, Annabeth, Tyson, and Grover
Jessie-Jessie, Zuri, Emma, and Luke
Narnia- Susan, Lucy, , aslan, and Peter
MM- Mickey, Minnie, Donald, Goofy
See More▼

Twilight- Jasper and Alice
on October 25, 2013
Sounds like fun!
-Hermione
-(Don't really watch it though) Ally
-Rue
-Percy (Again, have no interest in this genre)
-Ravi
-Lucy
See More▼

-Pluto
-Bella & Edward & Alice
-Aladdin
-Gilbert
on July 19, 2013
Happy potter- Shape, Ron, Harry Potter
A&A- Des
Hunger Games- Maverick, Gale
Percy Jackson- Tyson, Grover
Jessie- Ravi
Narnia- Lucy
Mickey- Donald Duck
See More▼

Aladdin- Jasmine
Twilight- Bella
Ann- Ann
on June 16, 2015
hp: Hermione and Luna AND Ron
a and a: Trish and dez
hg: rue, katniss, and prim
Pj: Percy!
J: Zuri, Emma, Ravi and Luke.
N: don't make me decide! but if I have to probably Lucy.
MM: Minnie mouse
See More▼

A: jasmine!
T: Bella and Jacob
A of G G: marilla!
on March 14, 2014
Tonks and Sirius
Haven't seen
Rue
Annabeth
Haven't seen
Lucy
Haven't seen
See More▼

None
Haven't read
Marilla
on November 30, 2013
Hi guys! If you love quotes and Percy Jackson, you should really follow Paris64! She is nice and funny and she is a bookworm! If you want to have fun chatting with someone, follow her right away! Her goal is to get 400 followers! Help her! Be loyal! Thanks for reading this! Spread it around Qfeast!
-Writerunner
on November 30, 2013
Sirious
Katniss Gale
Percy annabeth thalia
Aslan prince caspian
Bella as a vamp
on November 22, 2013
1. Harry (duh) and Hermione
2. I don't watch that show but I like the friend who has all the weird jobs and stuff
3. Katniss, Peeta, Cinna
4. Percy and Annabeth
5. Jessie
6. I CAN'T THINK OF HER NAME. The oldest sister.
7. Goofy and Minnie
See More▼

8. Jasmine
9. Edward... He sparkles. And Alice... She sparkles too! Lol
10. I have no clue.
on July 20, 2013
-Draco
-Trish or Dez
-Thresh
-Grover
-Luke
-Susan
-Goofy or Pluto
See More▼

-Abo (da monkey guy)
-Jacob
-Anne
on July 19, 2013
-Hermione
-Austin & Dez
-Rue,Katniss & Peeta
-Annabeth & Grover
-Emma,Zuri & Bertrum
-Peter
-Donald,Goofy & Mickey
See More▼

-Aladdin,Jasmine & Carpet
-Bella
-Marilla & Anne
on July 19, 2013
HP - Luna, Dobby, Hedwig, Hermione
HG - Katniss (I read none of the books and saw half of the movie when my 7th grade ELA teacher showed it to us b4 winter break)
on July 19, 2013