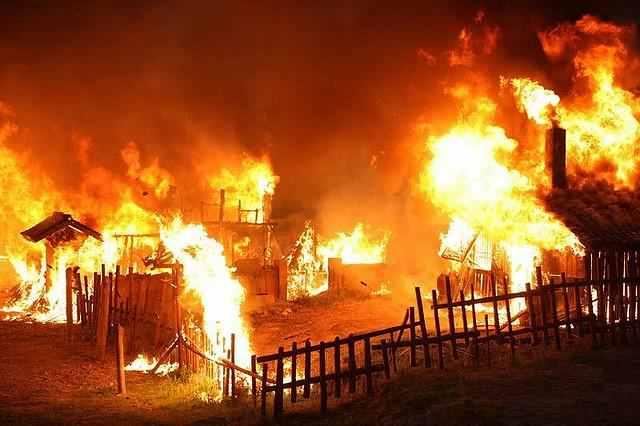 Fire
"Sting! Raios! Emmie! I have to go..." I called out to my three best friends. Sting Eucliffe, Raios Cheney, and Emerald Crystal. We had just been out playing by ourselves. Our parents let us out by ourselves because the village we live in is safe. Nothing bad has ever happened here. Until that night...
After saying goodnight to the other three, I ran home, looking forward to the nights dinner. Dad was back from a long job. My dad was a water wizard and my mum used to be a take over wizard but after she had me, she stopped going out on jobs. I loved my parents so very much, they were my world. When I was older, dad promised to teach me water magic so I could become a water wizard like him. He said that if I waited patiently for a few more years, he'll teach me to become the best water wizard there was.
A horrible sight hit me as I turned the final corner towards my street. At first, I didn't know what it was as I had never seen it before but when the heat struck me, I knew exactly what it was.
Fire.
My street was on fire. I didn't know what to do. I was scared. I ran towards my house screaming out for mum and dad. This couldn't be happening. Dad was finally home after a 3 month long mission and he was going to leave me again. As I ran inside, my eyes widened. My parents were laying on the floor in the kitchen, burnt and dead.
"MUMMY!! DADDY!!" The tears were falling rapidly now. I couldnt stop them. Screams and shouts were echoing in my ears but I couldnt hear them. I couldnt see the fire engulfing the house. All I could see were the two dead bodies laying infront of me. I looked around, trying to figure out what to do when i saw a Lacrima laying on the side so I walked over to it and saw a recorded message and pressed play.
"Hikari? Hikari. Sweetheart. If you're watching this then that means we are no longer here. We don't know what has caused this and we know your only 5 but please sweetie.. Get out of here. Run as fast as you can, away from here. We packed you a bag full of essentails so take it and escape. We are always watching you. We love you sweetie. Now go!"
"Mummy... Daddy... " I couldn't believe my ears but I did as I was told. I saw the bag and slung it over my shoulder. With one last look at my dead parents, I ran out of the door, as fast as I can. I ran to the forest not too far from the village, my favourite place to go. I didn't stop running. I didn't look back. I onlystopped when I ran into something big, scaly and green.
"Oh my dear child... Are you lost?"
~A/N Thank you for reading the first part of Hikari's back story! I hope you enjoyed! Let me know what you think! Next chapter will be out every 2 days!
Next Chapter: "The Dragon of The Earth" ~