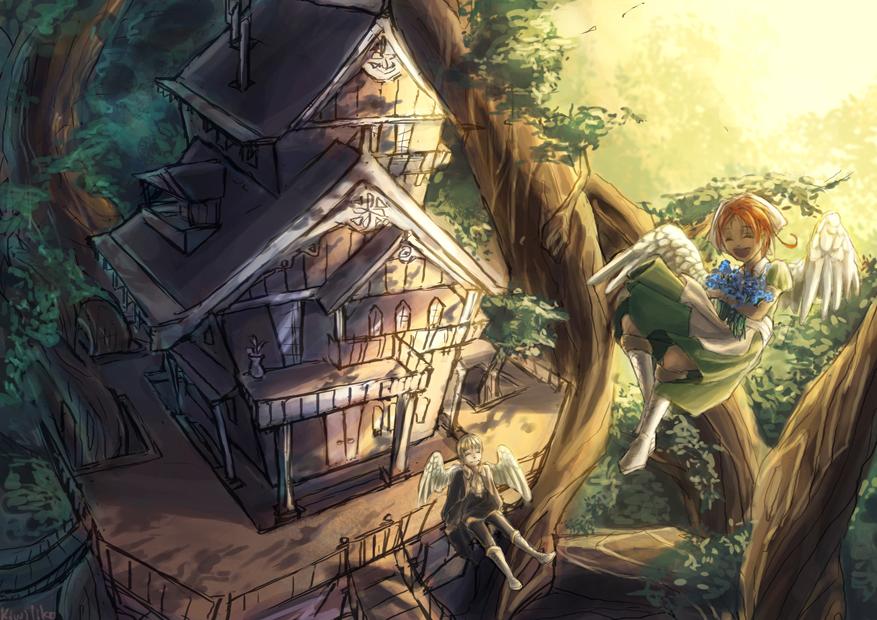 The treehouse
I and Kemi have reached the forest with a lot of pain..We went there by walk..
"Finally we are here...I thought we'd be struck here for entire life. Sorry for that . It's partly my fault" I panted
"Partly? It's completely your fault!! You said that it was shortcut. It's like the world's biggest shortcut!!" Kemi complained , carefully tapping her tissue on her skin, softly
"Fine fine..let's go into the woods ...its adventure ti-"
I tripped on a big stone
I rolled and rolled , and got thrown into a bush
Kemi bursted into laughter
"OMG!! I need to take a snap of this hilarious mess." She laughed
"A video would have been great, right?" I said sarcastically
We walked into the forest. It was getting a bit darker and the sky was dark orange-ish .
"The sun's gonna set soon. And here were are still searching for..wait what are we looking for?" Kemi asked
"No idea"
"Are you retarded?? Have you lost your mind? You don't even know where to go??"
"Relax" I tried to calm her
"Relax?? You say relax?? How can I relax like this- "
She finally calmed down when I showed her that....
My secret place where I go every weekend.
Since I was a kid
"So gorgeous" she excalimed looking
At my tree house near a water fall
"That's my second residence. Feel free to come inside" I welcomed her to the tree house.
We played my favorite games which I hid there
Ludo,Chess, Cards, Throwball
A cute little doll , a first aid kit, a little box of stones..
Everything felt so nostalgic as it has been three years since I visited the tree house
"Who built this? It's amazing. Do you always come here?" Kemi asked me curiously
"I don't know. I found it empty here when I was a six year old kid. I used to get bullied by bunch of few kids. I ran away and reached here finally. I was exhausted and fainted there.
After sometime I found myself inside this House. It was empty, old. Then one day I brought my paints and goodies and made this like my Place. I thought someone would appear but no one came. I wonder even now who was that person who brought me to this heaven." I narrated
Kemi cried "Such an awesome story. You were as pathetic as you were before " she pityed
"Oh come on." I pouted angrily and hugged her
After having a long chat, Kemi said she had to go & I too decided to go
That's when we saw a bird flipping it's wings hardly, attempting to fly..
It slowly dropped down . It fell on the ground.
It was hurt.
"Aw poor thing" Kemi said
I picked it & rushed to my treehouse. I grabbed my first aid box & treated it by washing it & sticking small band aids
"Will it be okay" Kemi asked, concerned
"Yeah " I said confidently
It was holding a small note . It had a small chit saying
....
"You are my bride"?!?
"Hey what's that?" Kemi asked me about the chit
"Uhh nothing..a prank maybe" I said
"Prank?what kind of?" She said snatching the chit
"It has something written over..wait..you are my bride..?!!? What??" Kemi startled
"What kind of prank is this. Ridiculous" Kemi laughed
I joined her too
We threw the chit there and walked to the treehouse. The border opened it's eyes. It was a unique bird. I have never seen like that before. It was so gorgeous. It's wings were sharp, it beak was of a grey shade, it had a scar like thing on it's head.
It started to hop & attempted to fly. It could fly and swiftly continued to fly & we waved it goodbye
"Such an adventurous day it was" Kemi giggled
"It sure was. " I smiled
"Let's come here again together."
"Sure"
We turned back to the city side. We made it to the home by dusk.