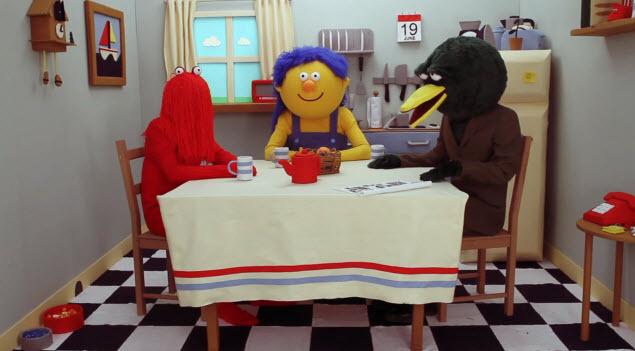 Creepypastas React To... Don't Hug Me I'm Scared!
(Rush, Slender, Tundra, Ben, and Laughing Jack. I think it's easier to watch the video or listen to the video while reading)
Me: Alright, you guys ready for it to start?
Rush: Yeah!
Ben: We're waiting.
Slender: I really have things to attend to...
Me: No! You're staying to cooperate!
Tundra: ...Ugh...
L.J.: Start it already.
Me: Okay, let's get started! *Presses play button*
Tundra: *Reads* Don't hug me, I'm scared.
Ben: I wouldn't hug you anyways.
Tundra: *Ignores*
Slender: *Reads the little yellow card* Get creative...
*Scene changes from showing the house to the puppets*
Rush: Oh god, it's a kid's show.
Me: Shh... No it's not.
*Notepad starts singing*
L.J.: *Raises an eyebrow*
Tundra: My favorite idea would be killing you.
Me: Hehe....
Rush: What. Is. This.
Slender: Please, make it stop.
Ben: When I look at that orange, it makes me think that it gives me something to squeeze to death...
Tundra: Why would you do this? Why?
Me: Hehehe.....
L.J.: I hate your hair... Please, make this stop...
Ben: KILL IT!
Me: Shut up guys! You haven't seen the best part yet.
Tundra: We aren't babies.
Rush: What is this exactly?!
L.J.: You killed the clown! You killed it! I'll kill you!
Me: Hehe...
Slender: Collect leaves and sticks? Gives me something to do while waiting for a victim... I'm not arranging them into a color though...
Rush: Ha! Green isn't creative! *Notepad says Green is not a creative color* SEE?!?!
Tundra: When I listened to the voices in my head, this happened...
Ben: I don't want to get creative... Whoa, it just got animated. Better than puppets.
L.J.: Oh, they look- IT'S A HEART! A HEART!
Rush: Was that a heart back there?!
Tundra: *Gasps at the glitter on the heart then laughs*
Slender: This just got ten times better.
Ben: This jumbled music is so much better than it was before.
Rush: *Sees him pick up glittered heart* MY GOD, IT IS A HEART! YES!
Tundra: *Laughs at the cake* I love it! I love it!
Slender: *Reads* Death... This just got twenty times better...
Tundra: *Blushes for half a second then looks normal* (To explain, it's TundraxXxDeath)
Ben: I NEVER EVEN GUESSED!!!
L.J.: DEATH!!!! ..........STAY CREATIVE!!!!! STAY!!!!
Tundra: *Blushes for another half second* Please, quit yelling "DEATH" right in my ear... (TundraxXxDeath again XD)
Me: So.... What did you guys think?
Rush: *Non-stop laughing*
Ben: I HATED IT THEN LOVED IT THEN HATED IT AGAIN!
Tundra: Same here!!!
Slender: I don't even know how you found this...
L.J.: STAY CREATIVE!!!!
Suggest any videos you'd like! I need to find more videos anyways. Hope you liked it!