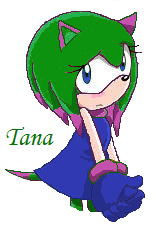 Tana the Hedgehog
About 130 years from the present, on Mobius, was a town called Sweterf. Now, during this time period, humans began to come to Mobius. They killed off most of the Natives, and a large portion of Mobius was populated by humans. Mobians were rare in that area, but the ones that you could find were adapted and had special powers. Among them was a teen Mobian called Tana the Hedgehog.
Tana is a green hedgehog with pink tail, ear, and quill tips. She wears a blue dress, gloves, and shoes. Her eyes are the same shade as her clothing. She's kind, but very shy. Tana didn't have a single friend in the world. She was homeless and lived on the streets, mostly eating fruits, and bread that was tossed out. Although she had the power to control plants, she rarely ever used it. Everyday, the hedgehog would wander around the edge of Sweterf.
*Tana's P.O.V.* I woke up and stretched. I had been sleeping in a flower bed, the blossoms had said that they were ok with it. Looking around, I said, "Good Morning!" I got up and looked at the house she was next to. It was tall and elegant, with white and light pink paint. 'It must be nice to live indoors...' I thanked the flowers and left. I walked in the outskirts of town. 13 years I had been doing this, and yet, none of the humans even knew I existed. Well, almost 14 years, my birthday is only three days away. I walked up to a peach tree. I hadn't eaten for a while, so I reached for the lowest peach. It was too high. I took a deep breathe and gently had the tree bend down just enough for me to grasp my breakfast. "Thank you, tree" I said softly as I picked the fruit.
I continued my daily routine of walking around the edge of town, keeping out of sight. Sweterf was a really pretty town. It had fertile soil, so a lot of plants grew there, and the air was fresh and clean. It was very unlike the neighboring city, with it's hard ground and heavy pollution. I walked and walked, not paying attention to where I was going, until something strange appeared.