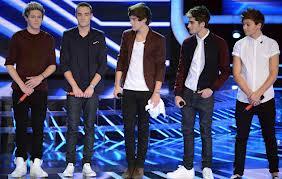 Facts
One Direction is a 5 people boy band their names are Zayn Malik, Harry Styles, Niall Hornan, Louis Tomlinson, and Leam Payn.
They are all from England except Niall, Niall is irish.
Something you might not of known is that Niall's natrul hair color is "Brownish" but he dyes it blond you can tell because his brother has ''Brown'' hair.
Harry and Louis used to live together during the british x-factor (to become famous ps the were competing against Cher Loyd)
Fears: Harry has a fear of spoons! obsessions: Zayns obsession and hobbie is looking in the mirror Fave: Louis loves turtles and carrots Fave Quote: zayns fave quote is Vas Happin'in becuase someone wrote a song for them called Vas Happin'in Boys.
Niall loves food <3 Harry hates straiting irions </3 Zayn loves mirrors <3 Louis (now) loves Lamborghinis Leam is a leader<<<3333.
In One Direction Funny Moments on ''YouTube'' louis says this..."In my first video diarie... I explained my love for women...
... Who have a taste in Carrots. Since then, ive received plenty of...carrots. And..now,i also have a keenest interest... in women who like lambghins" LOL!
Lots of people ask me "Who created the name One Direction?" Lots of people dont know lots of people think Simon Cowel did cause he was their mentor on x-factor. NO! I have the real answer and the defanition i always tell everyone who asks me that "Harry Styles Created The name One Direction" and one direction means you only trying to get to the to of the charts and your only going in one direction to do that, and your singer so you go in and singing direction and the whole time your just going in "one Direction"
Harry anad louis say as a joke "kidnapping is such a strong word we prefer SURPRISE ADOPTION!" I always laugh at that!!!!!!!