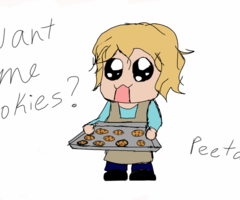 Submit your hunger games character!
Submit your hunger games character to my story! There will be more then 1 Victor! You may want to include
Name and last name(optional last name)
District:
Gender:
Weapon of choice:
Skill:
Reaped/volunteered:
Strengths:
Weaknesses:
Weapon of horror:
Cornucopia strategy:
Battle strategy:
Appearance:
Personality :
Token:
Interview angle:
Greatest fear:
Allies(yes or no):
Age:
Favorite color:
▼Scroll down for more questions▼
Answers (
8

)

vote up or down the answers
District: 8
Gender: male
Weapon of choice: longsword
Skill: dual wield (usually a long and short sword)
Reaped/volunteered: reaped
Strengths: very strategic
Weaknesses: low pain tolerance
See More▼

Weapon of horror: anything ranged
Cornucopia strategy: look from my starting position to see if anything good is there if not get away, if so go and get it and hope for the best
Battle strategy: use a dual swords combo to disarm and harm opponents
Appearance: medium long dirty blonde hair, and about six foot and skinny
Personality : usually happy, keeps moral going around, but knows when to be serious
Token: a hilt from my fathers sword (used as a hidden small club if needed
Interview angle: try decently, but not to my maximum potential, I want them to be surprised
Greatest fear: heights
Allies(yes or no): depends on the situation
Age: 15
Favorite color: black/green
on December 30, 2013
Name: Zeelie (prefers to be called Zee)
Age: 13
Gender: female
District: 7
Weapon of choice: dagger or self-made slingshot
Skill: stealthy
Reaped/volunteered: reaped
See More▼

Strengths: keen hearing and eyesight, small so I can slip through tight spaces easily
Weaknesses: hard for me to talk- people make fun of me
Weapon of horror: axe
Cornucopia strategy: grab the nearest pack and run
Battle strategy: wait it out, attack people nearest to me
Appearance: small, long black hair, amber/hazel eyes, slightly skinny
Personality: shy, quiet, somewhat mischievous (not in a bad way)
Token: tiny wooden raven
Interview angle: tries to gain sympathy from the crowd, acts all cute and loving
Greatest fear: being killed slowly (example: being skinned caught by careers) suffering
Allies: yes, one or two allies
Favorite color: purple and neon green
(I really wanna be in this cause I LOVE the Hunger Games!)
on December 28, 2013
Name: Aloysius ( nickname is Alo )
District : 1
Gender: Male
Weapon of choice: Fists
Skill: Hand to hand combat
Reaped/volunteered: Volunteered
Strengths: His weight, he is logical
See More▼

Weaknesses: Anxiety disorder , he tries to protect his gf
Weapon of horror: Spears
Cornucopia strategy: Kill as many people as possible
Battle strategy:hide away and attack when someone's near
Appearance: Blonde hair, blue eyes , stocky build
Personality: Vicious and logical
Token: His mother's locket
Interview angle: Savage brutal and ferocious
Greatest fear: Being killed
Allies: Careers
Age:16
Fave colour: Blood Red
on April 07, 2016
on August 17, 2015
Name:River Blue
District: 6
Gender: Female
Weapon: Nife
Skill: Sneakiness
Reaped
Strengths: Climbing and hiding knowledge of plants
See More▼

Weakness: vegetarian
Weapon of horror: Spear
Cornucopia: Runs away, doesn't get anything
Appearance: Long red hair thats always in a ponytail.
Battle strategy: Climbs away and hides
Personality: Mysterious, quiet and smart
Token: Stick paint gold
Greatest fear: Being seen
Allies: None
Favourite colour: Blue and green
Age: 15
on March 18, 2014
Tawny
District:1
Gender: Female
Weapon: Bow and Arrow and some flaming arrows.
Skill: Thief, Sly
Volunteered
Strengths: Archery, I feel I have special powers of magic.
See More▼

Weaknesses: Don't want to kill young ones.
Weapon of Horror: Sword
Cornucopia Strategy: Run torwards a bow and shoot several weak tributes, grab more bags and as much as I can, then join fellow Careers.
Battle Strategy: Kill anyone besides my allies, when allies are weak or sick kill them.
Appearance: Long platinum blonde hair fair skin brown eyes.
Personality: Clever, Intelligent, somewhat kind to young tributes.
Token: Has a jacket from my district with a large bird painted on it in gold
Interview Angle: Acted like a sweet little girl and be in love with other tribute of district for sponsers.
Greatest Fear: Dying
Allies: yes with careers and Zee (TurtleFluff) she watched me type this, she approves
Age: 16
Favorite color: Neon anything.
on January 03, 2014
Name: Sophie (this is not my real name)
District: 7
Gender: Female
Weapon of Choice: Bow and arrows or spear
Skill: I am very sneaky, so I can sneak up on my... enemies. I am also sort of small, and can climb very well. I can hear and see pretty well.
Reaped/Volunteered: I volunteered for my younger sister.
Strengths: Again, I am very sneaky, but also clever. Not as clever as Foxface though. I am not afraid to show myself. I can climb very well.
See More▼

Weaknesses: I don't exactly LIKE to kill other people, but I will because I have to. I am also friendly, so when it's down to just a few people, things may get a bit tricky.
Weapon of Horror: ... Uh... a... sword????
Cornucopia Strategy: Grab what is close to me, good or bad (it could come in handy later), and RUN (while looking for water).
Battle Strategy: Make some allies later in the games, but mostly hide and find food, never attacking unless I have to. I am mostly defensive, but always, except when I'm sleeping, keeping my eyes and ears open.
Appearance: I have long, wavy black/brown hair. I have dark brown eyes, and am small.
Personality: I am friendly, clever, shy, and quiet.
Token: My token is my mother's necklace.
Interview angle: I don't give away too much, because I am trying to be mysterious. Hopefully that will make the crowd want to see what I will do.
Greatest fear: Being one of the last people standing, and having the other people be my old allies. I don't want to kill them, but I will if it gets me home to family.
Allies: Yes, but only 1 or 2.
Age: 14 (not my real age)
Favorite Color: Blue and purple

Thanks for reading! Hope I get in!
on December 28, 2013
Name:Bizel
Age: 15
Gender: female
District: District 4
Weapon of choice: boomerangs
Skill: Speed
Reaped/Volunteered: Reaped
See More▼

Strengths: running, jumping, swimming, throwing.
Weakness: Not seeing anything, people are used against me, bullies
Weapon of horror: sword
on December 28, 2013