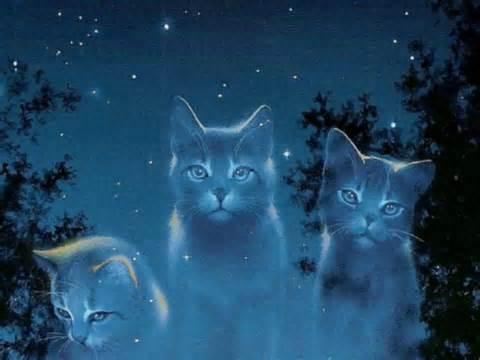 Warrior cat name ideas? (1)
I'm writing a series about warrior cats. I need names...

Here are the cats I need names for:
Strikepaw- (Strikefur?) ginger tabby she-cat, mean and sassy
Toadpaw- (Toadfang?) muscular brown tom (strikepaw's brother), mean and a bully
Darkkit- (Darktail?) black tom
Shadowkit- (Shadowtail?) black tom
Cloudpaw- (Cloudwhisker?) pale gray tom, medicine cat apprentice, kind, considerate, and patient

Also, I need more characters...

Name:
Age (optional):
Gender:
Appearance:
Rank (optional):
Personality (optional, but very much suggested):
Backstory (optional):

Please answer all parts:
- names for the kits/apprentices on top
- fill in a character form (at least one!)

Thanks in advance!
▼Scroll down for more questions▼
Answers (
5

)

vote up or down the answers
Name: Cinderwing
Age: 35 moons
Gender: She-cat
Appearance: Dark gray with white paws and a white tail tip, blue eyes
Rank: Deputy
Personality: friendly, reliable, loyal
Backstory: cinderkit was grooming her fur today was a special day, her apprentice ceremony. She was nervous to find out who her mentor was going to be "Let all cats old enough to catch their own prey gather beneath the Highrock for a clan meeting." She heard Bluestar call from the Highrock. "Cinderkit, you have
See More▼
reached six moons and it is time for you to become an apprentice" bluestar meowed "from this moment on until you receive your warrior name you shall be known as Cinderpaw your mentor will be mousefur" "Cinderpaw! Cinderpaw! Cinderpaw!" The clan called. Cinderpaw looked around. I'm finally an apprentice! She thought.

Ok so it was a little long sorry
on June 05
Strikepaw- Striketail
Shadowkit- Shadowtail

If you changed those they'd be better cat named in my opinion ;3
on May 09
Name: Meownie
Age: 5 moons
Gender: she kitty
Appearance: Black tabby, blue eyes.
Rank: Warrior's kitten
Personality: Fun, brings light, but knows when to be serious
Backstory: Abandoned on the side of the street near a bakery. The rest is unknown.
on May 09
Name: Grasseye
Age (optional): 35-40 moons
Gender: she-cat
Appearance: One blind eye(not a war scar or anything, just poked her eye on a thorn as a kit), the other eye is a light grassy green(hence her name), dark silver tabby, short fur, white locket and front paw
Rank (optional): respected(maybe, your choice, ultimately) warrior
Personality (optional, but very much suggested): Acts serious, stern, and snappy around most younger cats(except very young kits). Easily annoyed by
See More▼
older cats, but she usually controls herself around them because she highly values wisdom. However, despite all this, she is actually insecure about her disability and will practically rip the ears off of anyone who sneaks up on her from her blind side(she has only actually done it maybe once or twice, when she was an apprentice/young warrior, but she got in huge trouble for it and has now learned to restrain herself enough to keep from doing it again). Around camp and on patrol, she appears cool and collected. She has a soft side for young kittens and has been caught playing with them on many occasions, though she doesn't like to admit it because she wants to keep up her serious reputation.
(commenting backstory. Qfeast rules again)
on May 08
Strikepaw: Strikefur
Toadpaw: Toadfang
Darkkit: Darktail
Shadowkit: Shadowclaw
Cloudpaw: Cloudheart
(I liked most of the names you came up with already )
------------------------
See More▼

(posting the character form in another post. Qfeast rules about how long a post can be)
on May 08