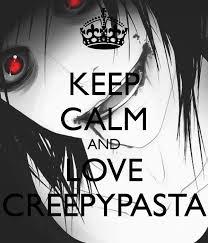 Creepypasta help?
Can someone please explain the personalities of all the creepy pastas? (e.g. eyeless jack, BEN DROWNED,) and maybe a bit about they're story because i don't know much and i would like to. Thanx!
▼Scroll down for more questions▼
Answers (
13

)

vote up or down the answers

Answer Link
jeff the killer, ticci-toby (toby Arron Rodgers), Masky, Eyeless Jack(E.J.), Laughing Jack(L.J.), Splendorman/Trendorman, and Ben is mine.......0-0..maybe Kageko..... -3-
on December 15, 2016
Answer Link
Lost Silver is sad and ded.
on November 02, 2015
Answer Link
everyone has different headcanons on their personalities but you can search for their accurate ones.
on December 30, 2020
Answer Link
Jane the killer mad at jeff because he killed her family
on December 19, 2019
Answer Link
on December 19, 2019
Answer Link
I love BEN Drowned and Slenderman!
on October 24, 2019
Answer Link
Jeff the killer in an insane killer.
Ben drowned is a spirit trap in a game.
Eyeless jack eat kindney and is eyeless.
Ticci toby can't feel anything when he's been hurt but he still have emotions.
Hoodie is always shy and he don't speak that much.
Masky is always annoyed.
Well that what I know for now anyone want share more facts about creepypastas comment here!!
on May 29, 2019
Answer Link
YOU'RE ALL MEOW COWS!
ILLUMINOTY CONFIRMED!
I'M RUNNING OUT OF THINGS TO SAY!
!SWOC WOEM LLA ER'UOY
!DEMRIFNOC YTONIMULLI
!YAS OT SGNIHT FO TUO GNINNUR M'I
The last three are the first three backwards.
See More▼


.sdrawkcab eerth tsrif eht era eerht tsal ehT

I did it again.

.niaga ti did I
on May 26, 2016
Answer Link
on May 25, 2016
Answer Link
Why does nobody pay attention to Ticci-Toby, TailsDoll and Lost Silver? There my favorites.
on July 24, 2015
Answer Link
on March 21, 2015
Answer Link
on January 30, 2015
Answer Link
Jeff the Killer is a heartless, cruel, killer who can't take in the emotion of love. But ever since the fangirls came around, they have been changing his canon personality.
on January 30, 2015