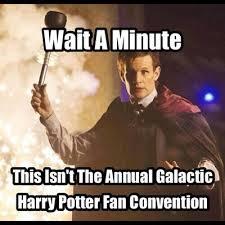 About Doctor Who?
In the recent episode, (the one where SPOILERS Danny Pink dies,) Danny goes to the 'Nether Sphere', which is a form of heaven. So apparently everyone who dies goes there. But I don't get why the guy was asking Danny if he'd get cremated because people can feel what their dead bodies feel outside. And, where are all the animals in the Nether Sphere?
▼Scroll down for more questions▼
Answers (
4

)

vote up or down the answers

Answer Link
Is that REALLY what you're hung up on? Not the fact that SPOILERS DO NOT READ FURTHER DO NOT READ The Master is a woman??!?
Animals cannot be upgraded into cybermen. Therefore they would not go to the nethersphere.
on November 08, 2014
Answer Link
1. Because if he was being cremated then presumably he would be in unimaginable pain soon and they wanted to get him somewhere where he wouldn't hurt anyone while thrashing about/be ready to sooth him.

2. The nethersphere was not really where dead people went, well it sort of was, but only the dead people that Missy wanted for her cyber army so why would there be animals?
on November 07, 2014
Answer Link
on November 07, 2014
Answer Link
Did you watch the whole episode...?
on November 07, 2014