xx_creative_disaster_xx
I listen to Rock/Punk music, I don't really have a favorite band... I love reading and I hate school, I play softball and basketball but I don't really like basketball much...
The link
See More▼
to my book is: http://www.quotev.com/Jordennn/published
Happy Birthday
@xx_creative_disaster_xx
Heres your present *throws pie*
on August 09, 2015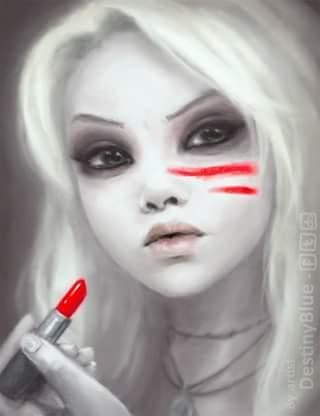 This is safety kitty.
If you repost safety kitty on 5 active users wall
You'll be safe from chain letters and scary posts.
on May 31, 2014
on May 27, 2014
You guys should go make a Quotev! It's pretty much the same thing as this, I love it so much! Go to Quotev.com
You can follow me
@xxXCreativeDisasterXxx
on May 01, 2014
on April 30, 2014
Well you guys I was going to try and publish my story on here but apparently I have "abusive contents" on there so I can't publish the whole thing. If you want to read it as me and I will give you the link.
on April 30, 2014
story
I looked up and saw someone tied to wooden post. I looked closer and realized that it was me! What? Then I remembered that I was looking from Aiden's point of view. I looked beside me and saw Aunt Riles, she has tears rolling d...
20 reads
9 readers
3
by xx_creative_disaster_xx
on April 30, 2014
Jeff the Killer is my favorite, I also like Eyeless Jack to!
on April 29, 2014
0
on April 29, 2014
on April 29, 2014
page
share your awkwardness? o.O or um just laugh at other.. i guess ;-; ._.
872 subscribers
72 members
by Mawwy
on April 29, 2014
page
Writers, come in. Talk about your stories, writing and the technicalities of writing, any advice you need, critique
451 subscribers
1 member
fully opened
by qfeast
on April 29, 2014
page
Looking for opinions or advises about your story? Just post your story link here
357 subscribers
1 member
fully opened
by qfeast
on April 29, 2014