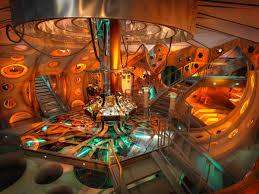 The Theater
The first thing I noticed was the room. I was blown away by how big it was on the inside. My heart was going at a thousand miles an hour as I looked around. Then, my eyes were attracted to the middle of the huge control room. Many different panels of weird yet familiar controls were surrounding a tall clear pillar with a pulsating blue light inside. The blinding yellow light shone directly into my eyes, and it took a few minutes to get accommodated to my strange surroundings. To my delight, I recognized it instantly. I looked up at the man who smiled back down at me with a look of - now, what was it? I could easily tell it was love, but not like a husband loves a wife. It was more like a father who loves his child. I felt really shy again, and I looked at the floor. I felt a tug at my hand, and I was being led into another room.
It was a relatively small room, and it looked a bit like an old movie theater. There was a small screen, and only the front row of seats were available. The man let go of my hand, and I watched him as he went into the back of the room. I turned back and examined the room a little more closely. It looked old, like it hadn't been used in forever. Cobwebs draped the flickering lights. Dust covered the walls. Oddly enough, only two of the red velvet seats were clean, almost as if they had been specially prepared.
I felt a hand wrap around mine. I looked up and saw the man looking at me. He moved to one of the seats, and I followed him. He sat down in one of the clean seats and patted the other clean seat next to him. Nervously, I sat down and looked at the screen.
Almost instantly, I felt like my mind was plunged into a universe of memories. I saw billions of galaxies one second, vicious battles the next. I even saw snippets of Earth history blended in with that of other planets. I could see all of time and space in what seemed like hours, even though it was actually minutes. My head felt like it was going to burn, my heart was racing-
It was over. My mind was swimming with questions. Most of them, however, weren't about the film I had just seen; they were about the man. Who was he? Why was he so familiar? What had he just shown me? Before I could ask him any of these questions, the man took my hand once again. I nervously looked back into his eyes. He was smiling again, but it looked sad and worn. My heart was moved from his expression. The man soon got up and started to leave the theater. I walked beside him, and the man led me into yet another room.