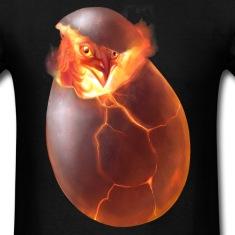 The Egg
The lava gurgled as the volcano prepared to erupt in 5 years. Rolling out of it, a little egg. It had shades of orange, yellow, red, and black. It cracked open to reveal a tiny little bird. She was a fiery orange, little yellow, red and brown feathers on the top of he round head. Her beak was a deep black, and her eyes were a dazzling red. The chick yawned, and stretched on the hard rocky cliffside within the volcano. Suddenly, she felt a big heavy weight smash down on her! "Oof!", She muffled through black feathers. "Oh!", said the other bird. He was a raven. He was a midnight black, red eyes, and a smooth feather-do on top of his head. "Sorry!", squawked the little bird.
She blinked, was this what another bird looked like? "I'm Stanley! Who are you? ", he asked. "Uhh.. ", She replied. She didn't have a name, no one named her. "That's alright!", Stanley chirped cheerfully. "Umm.. Why? I don't have a name.", She said shamefully. Stanley's eyes lit up. "I'll just call you Bonnie!", She felt as if that was her only choice. And besides, she liked the name he had given her. "Okay!", Bonnie squawked. She shook out her wings, then looked around. Was there any way to get out of this fiery volcano? She glanced upward to see the shapes of birds flying over the volcano- one goin into the volcano! It was another raven, but this one was a full sized adult one. He had two freakishly long claws, one on each foot. "Stanley.", he said in a deep voice. "You okay?", he asked. He looked down at Stanley, then turned his head to Bonnie.
"And who are you?", he asked, confused. He seemed friendly, but Bonnie didn't know whether to trust him or not. "Bonnie", she squeaked. "It's okay, Bonnie! this is my dad, Terror Claw!". Bonnie had no idea what to think. Stanley seemed nice, but Terror Claw looked scary. But as she looked up at his face, she could see he meant no harm. "Hey! How about you come and live with us! Well.. If you don't mind..", Stanley suggested. Bonnie couldn't do anything here, so she nodded determinedly. "Daddy, are you okay with that?", Stanley begged Terror Claw. "Do we really have a choice? What would Bonnie do here alone?", Stanley went on.
TO BE CONTINUED
IN THE NEXT CHAPTER...
|
|
V