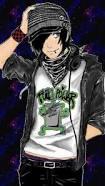 Sesa
Sesa walks into the school, already bored. Man, he hated high school. He wished he had just quit already.
Maybe I should, he thought, looking at the jerks that would make his life a hell.
Again.
"Bloody hell, I hate school..."
He sighed, then walked into the school doors, where he saw a white haired girl walk past him, no hurry in her steps.
"Huh..?" He looks at her, completely unaware of how new she was here.
She had on a white school suit, white hair, and white eyes. Why did she have on so much white?
It actually hurt his eyes.
He didn't seem to recognize that the girl was someone he knew.
"Kara..?" He asks, stopping where he stood.
To his immediate surprise, the girl looked back at him and tilted her head.
"Yes? Can I... Wait, Sesa?" She asks, looking at him and walking up to him. "Oh, my God, is that you?"
He nods excitedly. "Yeah, it's me!"
Her eyes widen, and she immediately hugs him.
"Sesa, how have you been?" She asks, pouting cutely. "And how'd you get so tall?"
He laughed and ruffles her hair. "Vitamins, eating, and not born short like you." He states, and Kara playfully smacked his arm. "Besides assaulting your best friend, what have you been up to?"
She shrugs. "Same old same old. I got thrown into the mental hospital... Again..." she says, acting like it was nothing.
"Lemme guess. Jake?"
"How'd you know?"
He shrugs. "Lucky guess. Besides, he's an asshole."
She nods, sighing and rubbing the back of her neck. "To be honest I don't even know why we dated in the first place. He was nice at the start, but..."
She looked away, filled with shame as she continued to rub against the scars he had left on her.
"Look, the past is in the past. The way I see it, you can either run from it or learn from it." He says, shrugging. "Besides, he tries anything this time, I'll kick his ass."
He gave her a smile, which she gladly returned.
"Sesa, you're too sweet. Besides, I'll be fine. I got you now."
He nods in understanding. "Yeah, I get it. So, what're you doing back in town?" He asks, walking with her to his locker.
"I moved back from Kyoto a few weeks ago. My dad made me because he was having trouble paying for the school I was going to."
Sesa nods again, grabbing a text book.
She smiled cutely at him, and he chuckled as he poked her nose. "I'll see you later. I got agricultural science first. Oh, and watch out for Ms. Whitaker. She's been.. eh... moody."
She nods, watching him leave to his class.
Then, suddenly, she hits the locker, denting it.
"D-damn it... Why can't I tell him I love him?!?" She said, feeling the tears build behind her eyes. Then she wiped her eyes, a bit of insanity seeping through her words.
"No... not this time. Not ever again will I lose him. Never again will I leave him."
She takes out a pocket knife, cutting the palm of her hand and letting a few droplets of blood land into the floor in front of his locker.
"I swear this on my love for him..!"