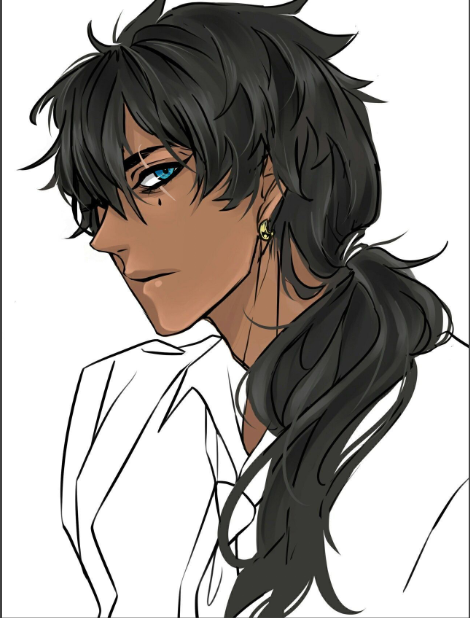 Nightmare
I walked cautiously, holding my scythe at the ready. I was alert for any sound, any shift, or any smell that might give away the presence of something trying to stalk me.
After all, this was a forest of monsters.
I brushed aside some leaves to behold a beautiful white beach. Blue waves were lapping at its shore, and a salty breeze blew in. I smiled.
"Its been a long time, old friend."
As I walked down the beach I saw a few seagulls squawking and picking over something. Curiosity took over and I decided to check what it was that acquired their attention
When I was 5 feet away the seagulls bolted, squawking in protest and swooping overhead. When I looked down, I saw a sand covered lump.
"What the..." I used the butt of my scythe to roll it over, and to my surprise there was the face of a boy.
His skin was pale, and he had white messy hair, yet he looked no younger then 20. His clothes were of a unknown make, different then that I've seen before. Gold piercings curled around his pointed ears, marking that he was certainly not from this land.
I sighed. I hated this, but it was obvious he needed help. That is, if he wasn't dead.
I stooped down and picked him up, slinging him over my shoulder. If this kid was from another country, I was curious enough to find out. And I'll admit, his pretty face made it hard to just leave him rotting in the sand. Nightfall came quicker here, and I knew that if he was left out during the night a creature would find and eat him without hesitation.
And so, I walked.
Just as the sun dipped below the horizon I made it to one of my many hidden hideouts. A great waterfall fell, pounding against the rocks and sending spray every which way. I put myself against the rocky wall as much as I could with a passenger, and made my way to it. As I reached the waterfall I ducked my head and went through.
For a moment I felt the back breaking, ice cold, weight of the water, but I made it through quickly into a cave.
Old wooden planks were nailed in against a few of the walls. The air was damp from the mist in the air, and it looked rather dreary, but I didn't care. This was a good of a home as any.
I laid him on the small makeshift bed and sighed. I looked at him for a moment, suspicious of why he did not wake up yet. But then I decided it did not matter and I got dressed.
I put a blanket or two over him, checked around for any hidden surprises, then sat against the wall to fall asleep.
I yawned, suspicions of the boy floating in my head as I drifted off to sleep...
I woke up to hear some rustling. As I opened my eyes I saw the boy was awake, light violet eyes darting around in confusion.
Then he saw me, and he froze.
"W-Who are you?" Surprisingly, he didn't sound too scared. He mostly sounded startled.
"My name isn't important, but people call me nightmare."
"And... Where are we?"
"One of my hideouts in the forest of Shin Tuiga, the forest of monsters."
"I don't remember there being a forest of monsters... Wait... Are you part of the dark lands?"
"Not that I recall."
"Then are you a fallen angel?"
I smirked "Fallen angel is the wrong term. I am actually a gray angel by heart."
"Gray angel..?" He tilted his head, unused to the term.
"Yeah. And you are?"
"Oh! I'm a nature elf."
"Hmm where are you from?"
"The earth area."
I looked at him in the eyes.
"You do realize that there are no 'earth areas' or 'dark lands' here right? I think your from another country entirely."
His eyes widened.
"That can't be.. I was just canoeing around when a storm hit and-"
"And your boat sank and you got washed up here by the storm. You would be surprised how many things get washed up here. However, your the first elf, living or non-living, to come here."
I let that sink in. He looked worried to be so far from home, and I don't blame him. Then he looked up at me.
"Why did you save me?"
I shrugged.
"Just felt like the right thing to do."
He smiled. "Well thank you! I don't know what I would do if I was on my own."
I couldn't help but smile a little back. There was something about him that put me at ease.
"Your welcome."