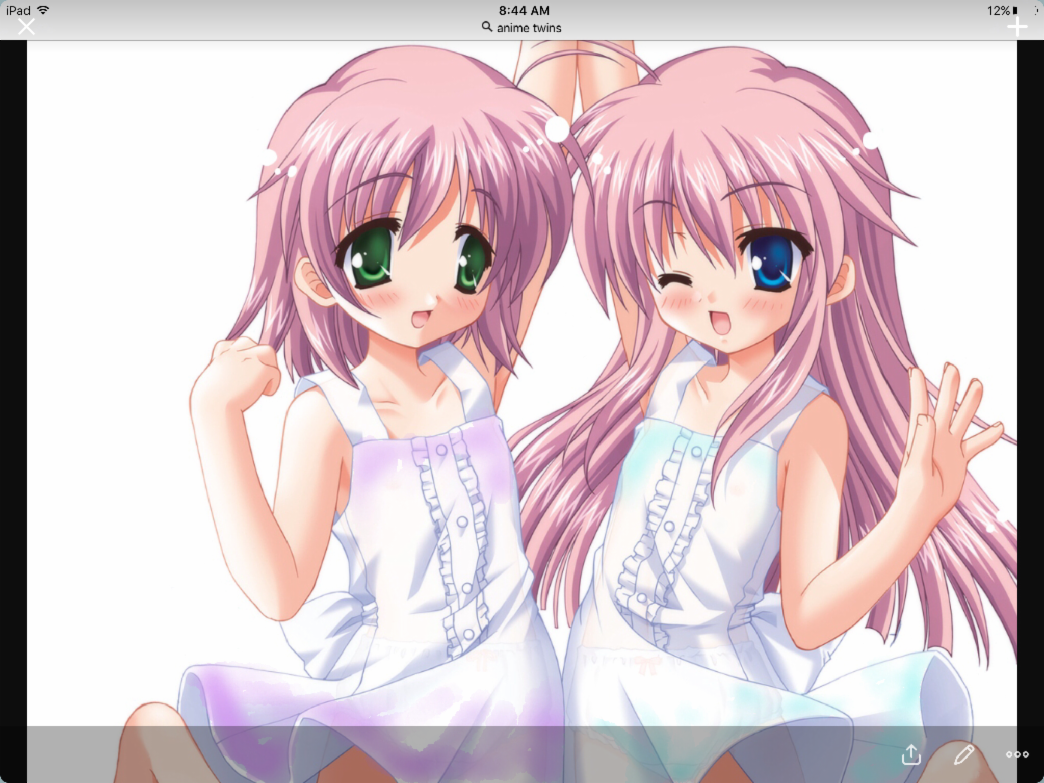 The Feeling
"Emmy!" I called her into the lounge "guess what" I said excitedly "what Nicky?" She always called me Nicky, instead of Nicoletta. "Our birthday" i paused for affect "is at the new Pizzeria!!" We screamed happily and jumped around "and guess what we get VIP as well, I'm going to work there!" Our dad said "YAY!!!!" We screamed "ok girls calm down" we took a big breath and calmed down "what should we wear?" A chill went down my spine it was in two days yet we had no idea of what to wear!. We rush up the stair our hair flying furiously be find us.
Once we were inside the purple and teal room we looked through all our dresses. I found a whit dress with purple blended upwards (picture up above).
Emmy's POV
I looked at my sisters dress and found one nearly identical but with teal!. "Perfect" we breathed.
The two day wait was filled with anticipation for the party but finally it was today. "NICKY!!!!!" I screamed as she screamed my name "it's today" we both said. Quickly getting dressed we rushed down the stairs to our dad. The smell of bacon and eggs wafted up to us as we listened to the crackling of it. "Mmm" we remarked. As we sat down on the wooden stools in front of the table. Our dad passed us our breakfast "what time is our party?" I asked "9:30" My dad replied as I checked my watch 8: 56 me and my sister looked at each other the look on her face said everything. Once we ate it was about 9:15. I felt my body surge with the rushed feeling.
My Sister and I rushed into the Bathroom and did our hair.
Nicoletta's POV
We finally walked next door to the pizzeria. I stared blankly at the so called animatronics, We were greeted by a man dressed in purple "welcome Mike, Nicoletta and Emmy" he said vacantly. We greeted him warmly and sat down as the other five kids turned up. "Wow this is awesome!" Ava said to Leo. "Hey guys!" Leo said "welcome" we said.
___
After eating the cheesy pizza we decided to look around a bit. My head was spinning after looking in the services and parts room.
It's now 10:30 as we bid our goodbyes to our friends. We went home to a normal day, I went to bed after teeth as usual. But tonight it felt weird...