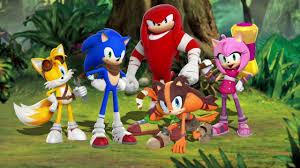 Everything wrong with Sonic Boom: Rise Of Lyric. (I own nothing.)
Before I begin if you wanna read this while listening to the cutscenes its cool with me and yes I've played this game.
1: So were starting with a cutscene now?
2: "Main character dies in a flashback" cliché.
3: Why is Knuckles suddenly stupid? I know that he is strong but in a lot of Sonic games he's not as stupid as he is in this game or even the TV shows for that matter. Knuckles can read and he can tell his left from right.
4: "main character proves the villain wrong" cliché.
5: Suddenly metal version of the main character.
6: Metal Sonic landed how Sonic landed on Eggman's ship in the beginning cutscene of Sonic Unleashed.
7: Amy throws her hammer when she is thrown back but its still in her hands when she gets up.
8: "Characters stumble upon something dangerous" cliché.
9: They all go to an old man for help when a fox with the IQ OF 300 is right next to them.
10: Amy and Knuckles could've alerted Sonic to tell him where they were going.
11: "Trapdoor" cliché
12: Knuckles' stupidity.
13: "spoke to soon" cliché.
14: "I didn't see that coming" cliché.
15: Suddenly Shadow because... suspence?
16: Is it just me or does anyone else pick up a "Wolverine" vibe from Shadow?
17: You have no right to be calling a guy who saved the world more than 10 times weak concidering you've only done it 3 times.
18: "Rival makes fun of the main character" cliché
19: Also Shadow was loyal to Maria, Eggman, Blackdoom, Professor Gerald, and even Rouge for a little bit.
20: "backstory of someone we don't care about" cliché.
21: Those aren't crystals, those are chaos emerald rip offs like the seven world power rings.
22: Why does Knuckles let Sonic bully him? He could knock him out right now if he wanted.
23: "Item is to easy to just grab so we need a boss battle" cliché.
24: "Metal/robot/creation betrays Eggman" cliché.
25: Eggman joined up with someone he knows will betray him then is surprised when it happens. Never trust a snake.
26: Sega is shipping Sonamy. Minus a sin.
27: "Timeline meets up to the previous flashback in the beginning" cliché
28: Not really dead" cliché
29: Its not really a surprise that Sonic is dead.
30: This game takes place before the show.
31: If Metal Sonic has smoke coming out of him then he would not function right.
32: One more sin just because like in Sonic 06 you can pretty much glitch to the ending. I hope this game is like: Avatar Last Airbender the movie so there's no sequels.
Total: 31.
Bonus round: Blaming things on Sonic.
Total: 93 sins.
Sentence: No good soundtrack. (Sonic Boom made Crush 40 quit)