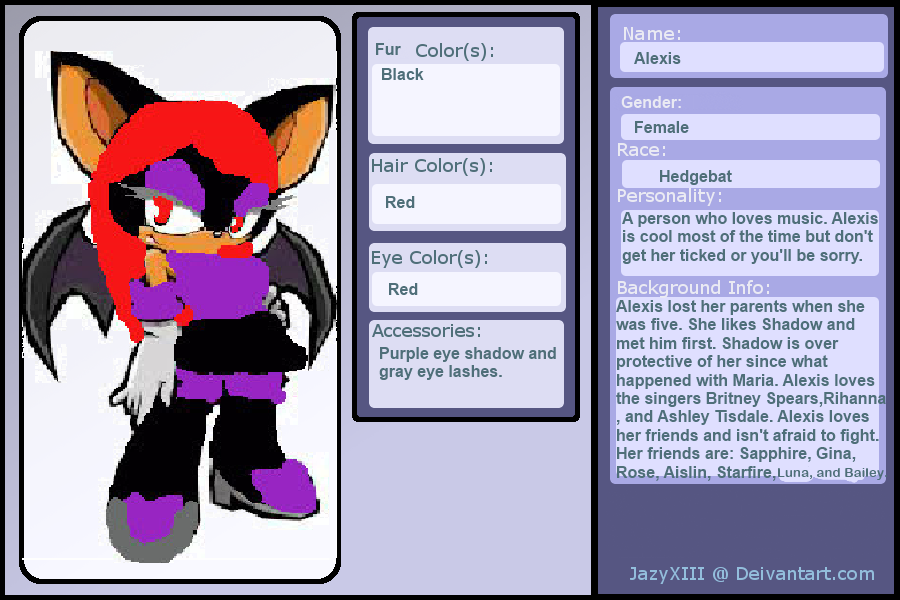 The first day.
I frowned and held my backpack close to me. "Great," I though. My first day of school since I moved. I lived by myself and didn't know anyone. I frowned at the though and walked in with a group of people. I saw a blue hedgehog talking with an orange fox and a red echidna. The hedgehog looked over at me then ran over with super speed. I looked at him in his emerald colored eyes. "Hi are you Alexis?" He asked. I nodded and looked down. "Don't be shy. I'm Sonic the Hedgehog. Me and my friends are going to be showing you around," He said motioning to the guys he was talking to.
They both waved and walked over. "I'm Tails. Nice to meet you," He said smiling and held out his hand for me to shake it. I smiled and shook his hand. "I'm Knuckles the Echidna," He said to me with a stern look. I looked down again. "Don't be that way Knux, your scaring her," Sonic said. "I'm Alexis, Alexis the Hedgebat," I said shyly. I held out my schedule and dropped my backpack. Knuckles got down and handed it back to me. "Thanks," I said still shy. "Well most of your classes are with us," Sonic said smiling. We have Ms. Vanilla first hour. At least it said so on my schedule. Sonic smiled as the four of us walked to my locker. A female pink hedgehog looked over at Sonic and tackled him. Tails, Knuckles, and I stared at her wide eyed. "I caught you Soniku," She smiled still hugging him. "Amy let me go," She looked up at us and stared at me. "Who is she," the pink hedgehog asked pointing to me.
"She's the new girl," Tails said. "You better not like my Soniku," She said. I shook my head and raised my hands up. "Well good then. Sorry about that. I'm Amy Rose. Nice to meet you," She smiled and shook my hand. I shook it back awkwardly. "Were in Ms. Vanilla's class," She said. I smiled at her even if her voice hurt my ears a little. A black hedgehog with red stripes walked past us. "That's Shadow," Knuckles growled as Shadow walked into the classroom looking at me strangley. I looked back at him then down at the floor. "Don't look him in the eyes," Amy said. I looked down. "You have red eyes to," Tails asked looking me in the eyes. I nodded and walked into the classroom. A female bat was talking with a purple cat. They both looked at us. "Hi Knucky," The bat said to him. Knuckles growled at her as the cat walked up to us. I hid my face in my schedule. "Blaze this is Alexis," Tails said motioning towards me.
I looked up at the cat. "Hi," She said looking at me. "I'm Alexis," I said looking down. "I'm Blaze." The bat looked at me. "Hi there. I'm Rouge the Bat," She said shaking my hand. I looked up at her. "Are you a bat to?" She asked amazed at my wings and ears. "I'm a hedgebat," I said looking down. "Shadow meet the new girl," Rouge called to the black hedgehog. He looked at me and walked over. I looked down with a small blush on my cheeks but no one noticed. "I'm Shadow," He said to me. I gave him a small smile. "I'm Alexis the Hedgebat." I looked down again. Rouge looked at us. "You both have red eyes," Amy repeated looking at us.
Shadow just kept staring at me. "Shadow?" Rouge asked. Amy looked at him and waved her hands in his face. He had a small blush on his face. Shadow finally looked up blushing but hid it quickly. Ms. Vanilla smiled. "Everyone take your seats," She called. Everyone did so. The only open seat I saw was next to Shadow. I looked down. "You can sit next to me," He said grabbing my wrist. "Okay," I looked down and sat in my seat hiding my face.