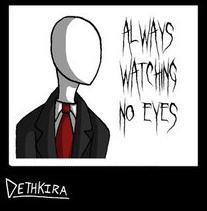 Slenderman Rhym
Slenderman, the faceless freak as some call him, is quite creepy I should say.
He sometimes haunts my dreams after I play Slender, which is each and every day.
OH and his tentacles!They stretch out from his back!
They sling out and seem to drift through the wind, which shows he's about to attack.
He has no face yet I see his expressions and I could tell how he'd feel.
I can feel it inside of me, as if we somehow were communicating. I could even tell if he really wants to kill.
In my dreams, I'm in his forest and definently gather up all 8 pages, no flash light needed.
I see the static, his faceless face, and hand him the pages. When I awake I know I've succeeded.
It's like our little game which we play in a litte wooded area near my house.
I adventure there, bumping into him all of the time. I've also found birds, squirrels, ad even a mouse.
When we play our little game he doesn't really talk yet I know when I need to leave or stay.
Whenever I need to leave I hear and see more static than usual as my eyes water up and ears pop. I really do obey.
The little wooded area's not HIS woods but he's brought me to his forest from time to time before.
Sometimes after school or day which is really great.... unless I hear a howl or roar.
Off to Slendermans forest. Walking with him or being forced, I still go.
Some people stop and stare in disbelief at the sight while others scream or reply, "Wooaahhh."