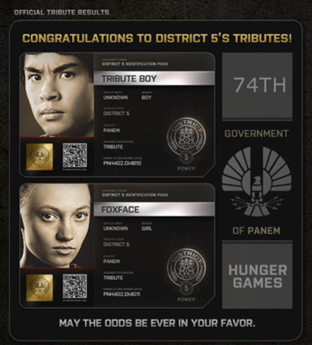 The reaping
Foxface was by her window in a pretty Blue dress. Outside were telegraph wires. She lives in a medium sized district wich provided energy for the all powerful Capitol run by the evil president snow. Today was the day of the reaping. She lived above their shop which was a food suplyer. She knew a lot of plants. Downstairs her mum called her
"Come down it is time to go"
"Yes" she replied,
She walked down and out of the back door. The town square was full, very full.
"Happy hunger games and may the odds be ever in your favour" The person in a silly wig shouted,
"Girls first" She put her hand into a very big bowl.Out came a slip
"Foxface"
!!!!!!!!!!!!!!!!!!!!!!!!!!!!!!!!!!!!!!!!!!!!!!!!!!!!!!!!!!
Foxface walked up to the platform to stand waiting for the boy.
She walked over to the ball and digged deeply "The boy tribute is Steve Macintosh,"
She did not know him to her relief. It would be easier killing him if it came to it. She boarded the train after she had said goodbye because she knew she was not coming home.