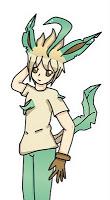 The characters
(Okay, I'll give you all a description of the Humanized Eeveelution's, ok? :D Great)
Leafeon
Gender: Boy
Age: 16
Type: Grass
Description: He has a little crush on Glacion in the begging, but he doesn't want to admit it. Fears he will be rejected. Also fears the other Eeveelutions never forgetting him embarassing himself like so. His friends would be all the Eeveelutions and Duskskull.
Volteon
Gender: Boy
Age: 15
Type: Electricity
Description: Leafeon's fast, say-before-think friend. Excites easily and is usually happy, not serious. Acts without a care in the world.
Espeon
Gender: Girl
Age: 14
Type: Phycic I believe
Description: Very cautious and cunning, she seems weird to the other Eeveelutions. She always seems to daydreem about what life means and of it's daily questions when bored or on her own time. She seems to do that but tends to have different thoughs because of her age and hormones (dirty mind). She is very mature for her age though. Also, she seems to wonder about Umbreon and looks up to him for his skills and is curious about his emo side. Secretely thinks it's cute.
Umbreon
Gender: Boy
Age: 16
Type: Dark
Description: Always cautious and strong, yet has an emoish behavior. Is cunning in battle but other than that loves to be alone to think and just relax but is pastered by Flareon sometimes. Very skilled and looked up apon but has low self-esteem. Also, easily angered by mindless behavior.
Flareon
Gender: Boy
Age: 14
Type: Fire
Description: Acts very silly but is equally soft. Loves to cuddle with trainer and try to help and train with other Eeveelutions but tends to annoy and get into the way of them. Is childish and sensitive of his nature. Others call him quite "girl". Closest to Eevee, through looks and friendship.
Eevee
Gender: Boy
Age: 13
Type: Normal
Description: Said to be the "runt" of the Eeveelutions for age and evolution, meaning he's basic. Is close friends with Flareon and loves to be around Leafeon and Volteon because he loves to feel like he belongs and hanging out with others helps. Usually very happy.
Glacion
Gender: Girl
Age: 15
Type: Ice
Description: Acts a bit mature but overall loves to hang out with the guys and her friend Vaporeon. Loves to loosen up and take dares but thinks of safety first. Has a small crush on Leafeon but is afraid to admit it.
Vaporeon
Gender: Boy
Age:14
Type: Water
Description: Is very silly and loves to hang out with Glaceon and Jolteon. Tends to say dumb things but when corrected just goes with the flow and listens, recorrecting self. Usually happy.