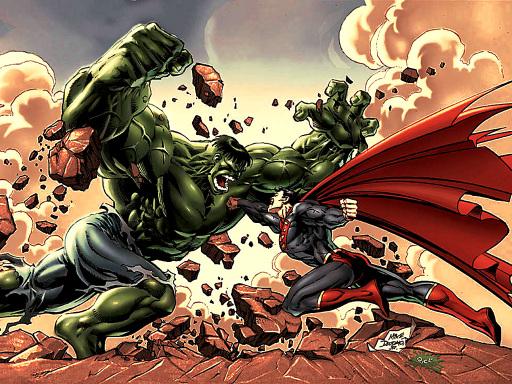 Superman Faces The Hulk
It is a normal day in the city of Metropolis. Clark Kent is walking down the street when he sees a large green monster. He reconizes it as The Hulk. He runs to a phone booth and flies out as the one and only Superman. He flies and lands in front of the mean, green, recking machine. Hulk is on a rampage.
Superman: That is enough.
Hulk responds by charging and punching Superman. Superman flies several feet and crashes into a building. The building falls on him. Hulk walks over and moves some debree. Superman flies out and tackles Hulk. He carries Hulk into the air and punches him hard.
Hulk flies across the air. He crashes into the ground hard. Hulk gets up. Superman Stands infront of him.
Hulk comes at him again, and Superman tries to freeze him with his ice breath. It works... for three seconds. Hulk bursts out of the ice. He charges at Superman. Superman tries to fly, but Hulk grabs his cape. Hulk slams Superman to the ground and smashes him around by his cape.
Hulk then throws Superman hard. Superman flies through three buildings and crashes into a fourth one. Hulk charges at him again. Superman uses his speed and moves out of the way. He grabs a car and throws it at Hulk. Hulk turns and back hands the car. The car flies and crashes.
Hulk picks up a car and throws it at Superman. Superman catches it and throws it. Hulk catches it and Superman uses his heat vision on the gas tank. It explodes on the Hulk. When the smoke clears, Huk is standing there without a scratch. He jumps at Superman and punches him. He punches him again.
Superman staggers back and Hulk hits a good hit in Superman's chest. Superman flies across the city and lands on the street hard and slides twenty feet on the ground. Hulk lands in front of Superman. Superman stands up. Hulk charges at him. Superman jumps and kicks Hulk in the face. Hulk staggers back. Superman then flies up and kicks Hulk in the face again.
Hulk grabs Superman's leg. Superman uses his heat vision on Hulks arm and Hulk lets go.
Hulk: Hulk Smash!!!
Hulk began smashing the ground hard. He began throwing chunks of road at Superman. Superman dodges two of them. The third one hits him, but he catches it. He throws it back and Hulk just smashes it with a single punch.
Superman and Hulk are both wore out. They charge at each other...