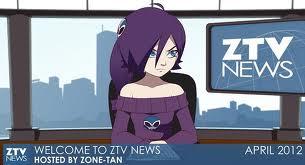 "Zone-Tan"
Jack: Hello, this is "Jack Talks". I am your host, Jack Lee. With me is my co-host, Anthony.
Me: Last time, we interviewed the most beautiful woman in the world. Tonight we interview a very deadly woman. From Ztv News, please welcome Zone-Tan.
Zone-Tan comes out and sits on the couch.
Me: Welcome Zone-Tan.
Zone-Tan: This better not be a waist of time. I have a show of my own to run.
Jack: I'll ask the first question... What are your hobbies?
Zone: I love to insult my Ztv News announcer. He is such a zit tit motherf*****.
Me: Do people ever have nightmares about you?
Zone: Alot of people do. I feel bad for their poor pothetic souls.
Jack: Do you enjoy the spotlight?
Zone: What kind of a question is that? You are a dumbass.
Me: Do you enjoy scaring the hell out of people?
Zone: Im starting to like you better. Yes, I love it very much.
Jack: How many people are afraid of you?
Zone: So many i cant count.
Me: How do you feel about stupid people?
Zone: I want to cut their tounges out and hang them with them.
Jack: Are you scared of anything?
Zone: Your health is about to leave.
Me: This will be the last question... How did you feel about the first episode of this show? Compared to Ztv News?
Zone: That question isnt bad. It did not have as much as i expected to it. It was really cool that you had your friend as the first guest though. Ztv had a few guests but they all pissed me off. I hate the host. You, Anthony, are alright. You havent pissed me off so youre ok.
Me: Thank you for your time.
Zone stands up and disappears into a cloud of dark smoke. The Show goes off the air.