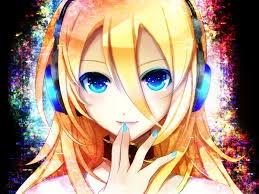 What Makes A Better Story?
So my main story I have been writing on is almost over. Yeah sad :( I enjoyed it though. Now, I have two main story ideas.

First story idea: Fallen Angels
Five angels were cursed by powerful demons leading into Heaven having to mark them as "Fallen". Unwanted and misunderstood, these fallen angels protect the world of angels, humans, and demons in silence. When the Enchiridion, the book of knowledge, is taken by a group of demons and dark angels, the fallen angels must band together to return the book before the dangerous group starts destroying everything, but will their cursed powers destroy the fallen angels before they get the chance to be accepted? Will needs OCs for angels and demons

Second story idea: Internet War
Tabi is a online community used for most of the activities in the world. In Tabi, you have your own personal avatar with all your personal data kept safe and sound. Along with your personal data, your avatar can fight, function like your real life job, and get a job as an admin on the site. Until 13 strong artificial intelligent, A.I., hack into Tabi's main servers and start taking control of people's avatars. The A.I.s start hacking into the avatars that control the nuclear missiles, street lights, train rides, alarms, and several others. Now enemy families must join together to save the world before the A.I.s destroy it. Could the families actually work together, or will their hate for each other ruin everything? Will need OCs. A LOT.

PLEASE just put in which one sounds better. Thank you! Oh and NO HATING! Please
▼Scroll down for more questions▼
Answers (
6

)

vote up or down the answers

Answer Link
WE SCREAM WE SHOUT WE ARE THE FALLEN ANGELS
on June 20, 2015
Answer Link
Fallen Angels! Sounds good!
on March 24, 2015
Answer Link
Put some horror in the story,for example your sitting with your brother,than all of a sudden,he starts bleeding from his ears,mouth,and nose.
on December 13, 2014
Answer Link
Imternet war, though the first option seems cooll to. Message me the oc forms kk?
on December 08, 2014
Answer Link
Internet war!!! You can use Akuso and Asani in it if you want! :D
on December 08, 2014
Answer Link
on December 07, 2014