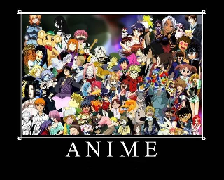 What's your favorite anime?
You can put any anime you want to.
▼Scroll down for more questions▼
Answers (
14

)

vote up or down the answers
10. The Devil is a Part Timer
9. hack.//sig
8. Paranornia Agent
7. Sailor Moon/Madoka Magica
6. Cowboy Bebop
7. Doraemon
5. Neon Genesis Evangelion/Gurren Lagann
See More▼

4. Code Geass
3. Cardcaptor Sakura
2. Little Witch Academia
1. Danganronpa

Honorable Mentions:
Watamote
Hunter X Hunter (2011)
Kagerou Project
Black Rock Shooter
Your Lie in April
No Game No Life
on February 17
Black butler
Space dandy
Rosario + vampire
I love them! Teehee!
on November 15, 2014
ERM pokemon x and y anime....:Someones mine has just ben blown:
on September 25, 2014
Fairy Tail
Pretty Rhythm
Naruto
on July 30, 2014
To answer the impossible question, I will give a top 5 (in no particular order):
1.SAO
2. Kyoukai no Kanata
3. DRRR!!
4. Free! (don't judge)
5. Hyouka
Lol so much KyoAni...
on June 20, 2014
Durarara d grey man or fairy tale
on May 23, 2014
on June 01, 2015
on April 08, 2015
FAIRY TAIL!!!!!!!!!!!!
I also like Full Moon o Sagashite!
on January 27, 2015
on October 18, 2014
THIS. is the most difficult question I've ever had to face. I'd saaaaaayyyyy..... KERORO GUNSO!! No! Wait! Hetalia!!! IDK!
on May 26, 2014
I like Dragonball, and Dragonball Z. Not Dragonball GT though.
And I don't like Pokémon's anime and Yu-gi-oh's anime either.
But you could call me a geek when it comes to Dragonball and Dragonball Z....
on May 23, 2014