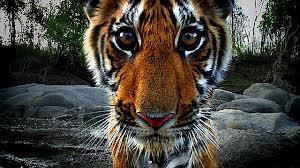 Are tigers going extinct?
▼Scroll down for more questions▼
Answers (
15

)

vote up or down the answers
IF IDIOTS KEEP KILLING THEM! I HATE POACHERS, ND ANYBODY WHO KILLS ANIMALS! HORRIBLE! I love tigers, it's so sad that they are an endangered species.
on July 12, 2013
Yes!
I wrote a speech about it, and read it to the school, to raise awarness for these poor animals!
I will soon be creating a page for people that feel like they need to protect ANY endangered (Thats animals that are going extinct) so PLEASE help raise awarness, by getting together a campaign or something, because animals have the rights to live as well...
on April 23, 2013
on January 19, 2013
Why do people hurt animals?
on July 08, 2013
on July 08, 2013
they are in aisa people keep on killing tiger for fur and because the tigers keep on killing people!
on January 13, 2013
They're starting to. People are hunting them for fur, teeth and sometimes meat. so yes they are.
on January 13, 2013
on January 12, 2013
Some breeds of tigers- especially Siberian tigers
on May 25, 2015
Yep.
There used to be eight kinds of tiger but either five or three got extinct. Save the tigers!!!!!!
on November 05, 2013
Maybe if the poachers carry on. OMD, WE HAVE TO STOP THEM. (Oh My Doctor is OMD, in case you were wondering)
on August 30, 2013