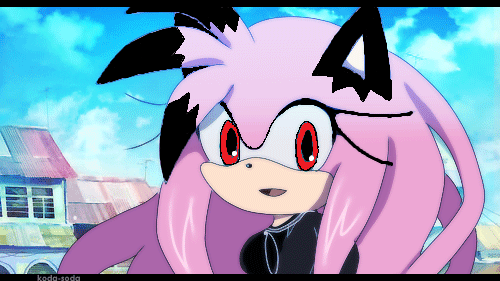 Chapter 1 ~ When I met him
It was dark. I didn't know where I was, this place was unknown me. I remembered nothing. My family, my culture, my race, nothing. Everything of it had disappeared. All my memories had disappeared and had flown away in the nothingness. I looked at my body. It was covered with pink fur. Intrigued, I touched my head. I touched long spines and three spines forward. When I touched my ears, a shiver crossed my body.
Girl : An animal... Im an animal...
I stayed mouth gapes a few moments before seeing a grey/silvery light appearing in front of me. Since the light came a voice. A foreign voice, but which attracted me a lot.
Voice : Hey! Wake up! Do you understand? You need to wake up!
Intrigued, I approached the light and touched it. I felt my body be absorbed by the light so much violement that I closed eyes. When I opened them, I was not anymore in the black. I was in the green and fresh grass, surrounded undone walls in ruin. I got up, surprised, and looked around me. I perceived a kind of grey animal, and I began to move back of fear.
Animal : Hey! Don't be afraid, I just to... help you!
I stared at him in eyes. He had golden and big eyes. These eyes reflected some sweetness and some peace.
Girl :W-who are you?
Animal : My name is Silver. Im a hedgehog.
He looked at me from head to foot and began to blush.
Girl : Why are you looking at me like that?
Silver : Hum... I should maybe ask Amy so that she lends you clothes…
Girl : Clothes?
I look again at my body and I realised that I was naked.
Girl *Blush* : Don't look!
The hedgehog turned his head and began to speak to me, always so red.
Silver : Amy is a hedgehog … She should be able to lend you clothes, the time which you find some … Stay here, I come back.
The hedgehog left by floating in the air. He returned a few minutes later accompanied with another pink animal. She looked younger than him.
Pink girl : Hello! My name is Amy Rose, but you can call me Amy!
Girl : You're... You're a hedgehog?
Amy : Sure! You're also a hedgehog, you're supposed to know that...
Girl : I don't remember anything...
Amy : Oh. You don't remember your name?
Girl : My name? ... 0_0 Do I have a name??
Amy : Don't worry, we'll find you one.
She gave me a smile and helped me to get up . The hedgehog blushed even more.
Amy : Go join Sonic and Shadow , Silver. I'll take care of eh... Mrs Hedgehog
Girl : T_T
Amy sent me a wink of eye and I followed her to her house. By entering in her house, I saw two other "people". They seemed to be females. One of them looked like a cat with a pale purple fur. The other one had a very young air and had a beige fur, with ears of rabbit.
Amy : Hello girls! I present you Mrs Amnesia!
Girl : Hey!
Amy : She doesn't remember anything … I'll go to find her clothes, later we shall take care of her name and her age...
Rabbit : Okay! Hello Mrs Amnesia, my name is Cream, Im a rabbit!
Cat : Im Blaze, a cat.
Amy took me to her room and closed the door quite slowly.
Amy : Okay! I will take care of your clothes...
When I think of it, it's thanks to Silver that I have an identity now … If he had not found me, I would have stayed in the nothingness for all eternity.