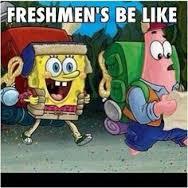 9/2/14: The First Day
First off, let's get something straight, this isn't going to be your average story of high school because this is the real deal. I didn't meet the love of my life, I didn't run into the antagonist, I didn't get lost or terribly embarrassed, it was all extra ordinary. Now, that might have been a stretch as it was not ordinary in the least. Now less with the formalities and more to the story:
It all starts at the bus stop. I was lucky off to have it literally across the street from there. I walked over, nervous but less so than the night before. There was already a bunch of kids standing there but most of them were already in their groups. I kinda stood around awkwardly for a bit when I see a pretty girl walking down an adjacent street. She wasn't with any others and this immediately compelled me towards her. We exchanged pleasantries and let's call her Laurel. She was really nice and when the bus came we sat together which relieved A LOT of stress.
Once, I a\entered the school it felt like a whole new world. I had been there before and felt very prepared since Orientation so I was ready for the day. Now, I doubt you want to hear about all my classes so I'll just go for highlights:
Honors English~ We went over the syllabus, did some icebreakers, and did some games. It was fun and I like our teacher. Also, let's call him Oliver, was there with me which is kinda nice since he is the only one from my old school there.
Gym~ We went over rules, introduced ourselves, and wasted time. It was fairly boring until this guy came in obviously looking for someone. There was some words passed between him and our other coach. The coach suddenly shouts out "Elizabeth?! Elizabeth Dym (the name I'm taking on for the story), you're wanted in the nurse's office!" Everyone was staring at me as I stood up and left. It was nerve-racking but I knew eactly what had happened: I forgot to turn in a form... I came back and everyone looked at me again but whatever. Also in Gym, I ran into my first stoner. It was bad yet hilarious xD
Biology~ Syllabus overview, icebreakers, and some weird games. Our teacher is really weird but really cool.
Study Hall~ Study Hall is one of the most useful periods as you can get a lot of work done. Except we had a fire drill in the middle that sort of interrupted things.
If you took the time to read all that, I commend you. I promise it will get more interesting as time goes on and drama gets real. For now, my truest advice is: keep your head on your shoulders as it is WAY easier than it seems; make as many friends as you can but being alone for a bit isn't a bad thing; listen to your teachers.
Alright, I'll update everyday and I hope this will help you in your journey along the way! ~ <3 Elizabeth Dym
To add more characters I'm just going to add awesome songs:
Feeling Good by Nina Simone:
Birds flyin' high, you know how I feel
Sun in the sky, you know how I feel
Breeze driftin' on by, you know how I feel
It's a new dawn, it's a new day, it's a new life for me.
Yeah, it's a new dawn, it's a new day, it's a new life for me, ooooooooh...
And I'm feelin' good.
Fish in the sea, you know how I feel
River runnin' free, you know how I feel
Blossom on the tree, you know how I feel
It's a new dawn, it's a new day, it's a new life for me,
And I'm feelin' good
Dragonfly out in the sun, you know what I mean, don't you know,
Butterflies all havin' fun, you know what I mean.
Sleep in peace when day is done: that's what I mean,
And this old world is a new world and a bold world for me...
Stars when you shine, you know how I feel
Scent of the pine, you know how I feel
Yeah, freedom is mine, and I know how I feel..
It's a new dawn, it's a new day, it's a new life for me
[scat]
And I'm feelin'... good.