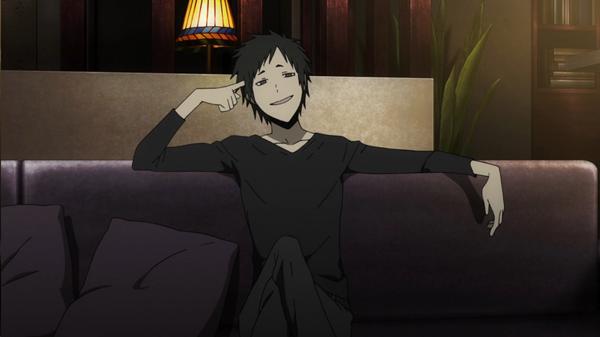 Izaya Care Package (Should've Gotten The Butt Hat)
The city of Tokyo, Japan was a lively place during the end-of-year holidays, as eighteen-year-old Violet Gropius was starting to realize this year. It had just started to get cold and snowy in the beginning of December, but that certainly didn't stop the citizens, who went about their daily business with seemingly more determination than usual. The young woman had moved back to the area just a few months ago after spending a some years at a combat school in America. She had a lot to get used to again - the language, the customs, the food - but she was managing in the ward of Ikebukuro.
Currently, she was dodging around pedestrians as she fled from an old enemy, laughing despite the danger. Hey, she loved the rush of adrenaline! From behind her came a roar of anger and a loud crashing sound, and her instincts told her to leap. She landed atop a street light on the side of the road, precariously balanced but grinning all the same. The man she'd been running from skidded to a halt and glared up at her. Oh, he looked murderous, but still, Violet couldn't help but taunt him. In English, of course, because the male wasn't Japanese.
"Still stuck on the ground, sweetie? You should learn to fly like me~ It's a lot of fun!'
"Shut up, you brat! Come back down here so I can kill you!" He raised one foot, showing off the moving metal running along the bottom of his boot. This man was a living weapon who could transform into a chainsaw, though usually he never fully did so. It was impractical, so he simply formed his chains on his arms or legs to boost punches.
A scar on Violet's stomach ached at the sight. She remembered their first meeting very clearly, mostly due to the fact that he'd cut her open with a well-placed kick to the gut. A good thing she'd gotten to safety. "Aw, but I still have things I wanna do! So, I'll see ya later~!" With that, she bent her legs and backflipped onto the building behind her, starting to run along the roof. Her enemy shouted below for her to stop being a coward and come back, but the parkour expert was already long gone.
Some time later, Violet dropped to the ground in front of her destination: a sushi place. It was a small restaurant, not part of a chain or anything, run by men who spoke both Russian and Japanese. It also happened to be a hotspot for the weirdos and oddballs of Ikebukuro - for people like her.
She sauntered inside and waved at Simon, the large man who was, for some reason, trying to get customers whilst inside the restaurant. Well, it wasn't like he was really normal.
"Mura! Long time no see!" He grinned and held out a flyer.
As the young woman already knew what she was ordering, she shook her head, but chuckled good-naturedly. "Nice day, huh? And nice to see you. I can't stay for long, though, so could I have a pack of fatty tuna to go?" She turned to the man behind the counter, who nodded and simply held out an already-prepared bag. "You knew I was coming, Denis. Sweet."
The gray-haired man nodded as she took the package. "You're friends with Izaya and this is his favorite. Give him my regards."
Violet nodded and, with another wave to the staff, walked back out to the street. "Now on to Shinjuku...I hope I have enough yen for a train ride." Turns out that she did, thankfully, so she was soon on her way. She sat quietly through the journey, just...thinking. Thinking about life and people and all the things people think about. She was so engrossed in her thoughts that she almost missed her stop, as usual.
She wandered for a short while before she made her way to the high-rise where her boss lived. Calling him her employer was a bit inaccurate, really, since they were more close friends that did favors for one another, but it was easier to explain their relationship as purely business. His name was Izaya, and he was an information broker. Her name was Violet, and she did odd jobs for anyone who could pay her.
The door was unlocked and she waltzed right on in, humming a greeting to the male across the room. He gave a smirk that she could tell was fake and stood up from his desk. "Mura-chan, what a surprise! Didn't you have a job today?"
With a roll of her eyes, the brunette plopped casually onto his couch. "I lied. Couldn't have you knowing what I was doing," she mumbled as Izaya sat next to her.
"You couldn't?"
"That's the point of a surprise, dingus." And she sat the bag on his lap, crossing her arms.
"Oh?" His eyes widened. "A gift for me...but you know how I feel about Christmas."
"Yeah, and that's why I'm not presenting it as a Christmas gift. It's just something for you, because I like you." Violet crossed her arms. "I hope you don't reject it. That would be rejecting me, and being rejected from someone like would hurt me."
The man knew she was only teasing - such was their connection. He knew her, and she knew him. She was about the closest to normal interpersonal relationship he would be able to get unless he wanted to lower himself to the level of his precious humans, and he certainly wasn't ready to do that. "Now, now. No need to be so dramatic about it! I'm sure you'd find a way to get over it." His trademark smirk returned as he tugged the bag open, but it faded once more once he saw the contents.
First, Izaya pulled out the fatty tuna from the sushi place. It wasn't particularly unexpected, if only because the man's liking for the food was fairly well-known. There was a light scoff as he took a small box of dark chocolate, and another with some vaguely foreign-sounding tea. A receipt for an expensive computer as proof of Violet's purchase (she couldn't very well fit the thing into a small sack, after all) and finally, a fuzzy hat with matching mittens.
"All this...just for me? I'm surprised. You usually don't consider others so much…"
The woman shrugged and bit down on her lower lip. "Like I said, it's because I like you. And I don't know that many other people anyway, so…" Her eyes widened just slightly when she felt a pair of arms around her shoulders. Izaya was hugging her. It wasn't that he wasn't a touchy-feely person - on the contrary, he tended to put his hands on the shoulders of everyone he met. It was simply that he didn't seem to be anything but sincerely grateful.
Violet smiled and hugged him back.
"You know," began the man after a while of just sitting there like that, "we should have a little party to celebrate my first real friend. What are those parents of yours doing for the holidays?"
"Probably the same big dinner they always do. Get the family together and all. Why, you wanna join them? ...Mom does always say that everyone is welcome at their table."
"I think I've just decided how we're spending our Christmas~!"