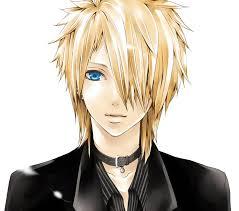 Mr. Popular
Sesa smiled at the cheerleaders.
"Sesaaa, when will you date meee?" Britany whines, making her usual pouty face.
He laughs, boops her nose, then says, "Sorry, ladies. Im not the dating type." as he drives into his personal parking spot, commisioned by the principle, his mom.
"Sesa, dude, I know youre emo and stuff, but uhm.. Could you maybe...?" Josh asks, walking by and talking over the screamo. Sesa raises an eyebrow, then says, "Oh, yeah! Sure. Sorry, man."
"Dont worry about it. Hey, did you get your homework from Atticus yet?" His friend asks, smiling as Sesa turned off the screaming.
"Nah, I payed him like fifty bucks to do it for me." He replies, walking into the school and past a blushing emo girl. He glances back at her, not letting it on that he was into her.
Josh rolled his eyes.
"Dude, if you need a girl, you can always-"
"Naw, man. Im good." Sesa says, trying to remember why she was so shy.
"Thats Elise Akito, EA the most unpopular person in town?"
Sesa whipped his head toward his friend.
When Sesa got mad, he usually hurt someones feelings.
"Dude, we might be friends, but theres no need to be a dick. So what she's unpopular? She's pretty. Im into pretty girls." He says, catching her attention.
Did he just call her pretty..?
No, no.
He was talking about someone else.
He had to be.
She wasnt pret-
"Youre talking about Britany, right?" Josh asks, nodding to the cheer captain.
Sesa shook his head.
"Nope. I mean her." He says, nodding toward Elise, making her squeek and hide in her locker.
Elise had been in love with him for years now, but she didnt want to be seen like this because she was... well, ugly.
Or so she thought anyways.
"Josh, all I want is a pretty girl and Ill be happy." Sesa says quietly, Elise over hearing and gasping.
Sesa smiled, blushed, then added, "And I already have someone Im going to ask to Snowfest." He laughed as his friend says, "Who, your mom?"
"No, dickhead. Someone whos not expecting it." Sesa replies.
Elise's heart flunked, completely disheartened.
"I hope she's happy." Elise muttered as the two most popular boys walked by, talking about the annual town dance.
Elise sighed depressedly.
She was going to ask him to the dance, but now...
Akiko opened her sisters locker slowly, the usual 'It happened again, didnt it?' look.
Elise nodded, embarrased.
"H-he called me pretty again, Akiko." Elise says, smiling as her sister closed the locker.
"Elise, you know theres only one type of girl that kind of... Boy will date." Akiko says, dusting her sister off.
"I know. But a girl can dream, cant she?" Elise asks, day dreamong of the day she finaly had the courage to tell him about her feelings.
Akiko sighed.
"Elise, just give up. He wont go for you. Im not being mean, but... he... Well... What would he even want from a girl like us?"
Elise sighed, looking at the love of her life as he walked into class.
"Love." Elise says, sighing. "Love is what he wants, just like me." as she walks into the same class, ready for the hell to come, all for him.