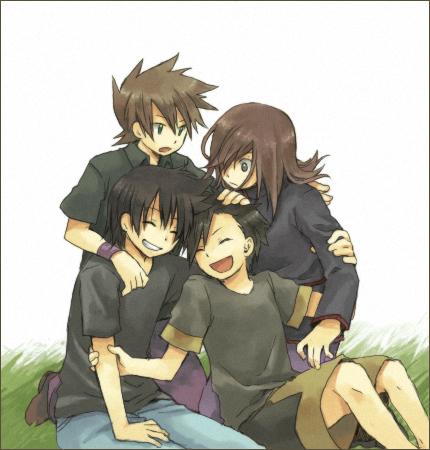 Chapter 2
Once we returned home with hand full of bags of groceries.Me and my brother both work a part-time job to help our dad who works at a gas station with his brother Soda.We work at a restaurant on our side of town.Dad helped us carry the groceries in.Mostly because I'd can't pick up more then one bag. Then dad saw my cut and got mad." Why is Dawn hurt " dad asked "We were at the store then when we walked out we got jumped by Socs and I'd tried to help.I told Dawn to run in the store and when she did the Socs got her and tried to cut her hair again but she always find a way to escape "Storm stated whiling lying.I never seen Storm lie .He was an honest person even for someone who has light brown hair and greens eyes. Why would he lie to dad about what happened? I honestly don't know anymore."Dawn , is this true " dad had asked like he already knew the truth.Storm gave me the eyes. "Yes.Its true " I said .He laugh "You guys can't tell a lie " dad said while laughing." Let's go and visit your uncle " he started walking out the door .
"Dad you forgot to put the groceries away come back inside and help " I yelled at dad."Sorry guys " dad said running back into the house." Dad can I ask you a question " I asked while putting up the groceries."Go ahead " dad answered "How am I younger than Storm when we're twins " I asked "He's older then you by two minutes " "Why " " Beats me ".
I have no idea why ran out .I herd my dad and Storm behind me .My dad ran track and was the fastest out his brothers.Same for my brother he's track and can run fast.I can run fast just not as fast as my brother.I saw my right behind me so I ran into the woods."I'll cut her off " dad yelled to my brother."Ok I'll stayed right behind her ." Storm yelled back. By this time I was crying I had no idea why I was.I saw my brother but not my dad.I wasn't paying attention to where I was going.And cause me me to fall but I didn't care.I got up"Dawn ! Wait up Geez " Storm yelled catching up to me.I ran faster but I saw someone ahead of me .I thought it was dad but he was blond headed.
I ran into him and said I was sorry."Its fine Dawn " he said after he said that I ran off.I saw the fuzz a few times while running.Then I saw my dad getting jumped by Socs.He saw me with tears knowing this wasn't why I was crying.I was about to run until the Socs saw me and stop jumping dad.They came after me.I ran then I saw my brother and dad chasing them.They got the Socs but lost sight of me.I had hid from them."Dawn. Where are you you "Storm cried out."What's wrong " dad yelled. Then I saw some people with a dark blond its was Snap and Coke. "Come on" Snap commanded I shook my head " Stop being mean Snap "Coke whispers."If she doesn't want to tell them we shouldn't force her." Coke stated walking away.Snap did the same.I thanked them they just smiled.I still had tears in my eyes by the time Storm found me." Dawn....What's wrong " Storm stated softly.I told him and he understood he grabbed my hand "Let's go home " Storm said while smiling.I stood up and nodded ."Look it's doesn't matter who was born first ok.I will always think of you as my twin. Even if I was born two minutes before you. " Storm said trying to comfort me while walking.
As we was walking we saw the same car who jumped me.It seem like they were looking for something or someone."Get beside me Dawn " Storm commanded."Greasers " one of them said. "Leave them alone guys " one yelled the others."This is our chance to get way " Storm stated looking at me. We took the change and got way."Your just like dad" Storm stated "How " I asked. No one has called or say I'm like my dad Pony." Well ,let's see your smart ,a fun runner, and don't like fights ."Storm stated."How's that like dad." I asked." Dad was smart and a fast runner and he hated fights but he would only in them if it was serious." Storm stated.