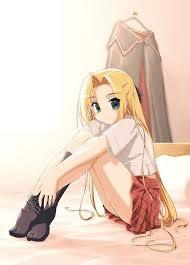 First Day, Good Start
(The picture is of Lindsay)
I woke up with a start and jumped out of bed. Today was the first day of 9th grade! I got changed and went downstairs to get breakfast. I put some bread in the toaster and poured myself a glass of orange juice. I was really excited fir this new year, yet also kinda nervous, I have to admit. That's when I got a text from my friend, Dawn.
Dawn: Are you ready fir the new year?!
Lindsay: Sorta
Dawn: I am definitely!
Lindsay: gtg! See you at school!
Dawn: Bye!
I quickly ate and brushed my teeth. I slung my backpack over my shoulder and opened the door. "Bye mom! Bye dad!" I exclaimed. "My sweetie!" My mom came over and gave me a hug. "Good luck!" I nodded and rushed out the door. I met up with Dawn in front of the school. "I wonder how this year is gonna be." I said. "Same as all the others." Dawn replied. We stepped into the school grounds. "Hmm... I have science first." I said looking onto Dawn's paper. "Me too!" She exclaimed. I looked at my schedule with distaste. "I have reading next." I said. "I heard all the teacher does is read the newspaper and check her Facebook!" Dawn whispered. I sighed. Dawn had art at that time. The first bell rang and we ran for the science classroom.