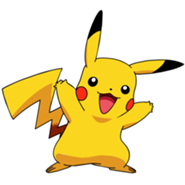 Pikachu
Pikachu is the only starter in the canon RPG games that deviates from the usual Grass-, Fire-, and Water-typings.
Pikachu is the only Pokémon to have appeared in every episode, special, and movie in the series in some shape or form.
Though Pikachu isn't in the Unova Pokédex, an image of it can be found in a building in Castelia City before the National Pokédex is obtained, as well as on a billboard above the Castelia City Pokémon Center. There are also several Pikachu shaped hedges in Striaton City. Also, there is a giant Pikachu float next to the Nimbasa City Gym. This implies that many people in Unova know about Pikachu, despite not seeing one for themselves.
In the game Pokemon Battle Revolution, Pikachu can use the HMs Surf and Fly.
In Pokémon X and Y, Ikue Ōtani provides the voice of Pikachu in the place of a cry.
In Super Smash Bros. Brawl, there are three variations of Pikachu, one has a headband similar to Brendan's hat, one has a hat similar to Ash's hat and another has goggles.
Pikachu has appeared on more merchandise than any other Pokémon, including the limited edition N64, Game Boy Color, DS and 3DS consoles.
In the 2011 Guinness World Records Book: Gamers Edition, Pikachu placed 20th in the "Top 50 VideoGame Characters of All Time."
Pikachu is the Japanese mascot for the 2014 FIFA World Cup.
The name "Pikachu" is a portmanteau of the Japanese words "pikapika", an onomatopoeia for electric sparkling, and "chū", which is the Japanese onomatopoeia for a mouse's squeak. It may also be based on the pika, a mouse-like animal more closely related to rabbits, but it's behavior (or more noticeably it's eating habits) resemble that of hamsters.
Though not the first Pokémon created, Pikachu was the first "Electric-type" Pokémon created, conceived after the type was suggested to Sugimori and designed around the concept of electricity and the common symbol for lightning.
Pikachu is considered as the main Pokémon in anime as it is starter of Ash Ketchum. Ash Ketchum received Pikachu in Pokémon - I Choose You! and Ritchie owned a Pikachu named Sparky.
Pikachu has also appeared in all three Super Smash Bros. Series games. Pikachu is a very agile and mobile playable character. In Super Smash Bros., Pikachu was considered the strongest playable character. In Super Smash Bros. Melee, Pikachu's Skull Bash move was introduced, and its Quick Attack ability was upgraded so that it did a small amount of damage to opponents. Pikachu has also once again appeared in Super Smash Bros. Brawl as a playable character, with its exclusive attack Volt Tackle as its Final Smash. If you look at the hat Pikachu and you look at the shiny above and the hat, you would notice it's the Shiny Pikachu with Red's Japanese hat.
Each of Pikachu's alternate forms in Brawl can be seen as a tribute to different Pokémon games; The blue goggles come from Pokémon Colosseum and the red hat comes from the Kanto region games while the green headband comes from Pokémon Emerald.
Along with Mario, Link, and Kirby, Pikachu is a mascot for the Super Smash Bros. series.
Known Trainers with a Pikachu :
Ash Ketchum
Ritchie
Victor
Red (Adventures) (has a Pikachu named Pika)
Yellow (Adventures) (has a Pikachu that's called Chuchu and temporarily owned Pika)
Volkner (as a child in the anime)
Lt. Surge