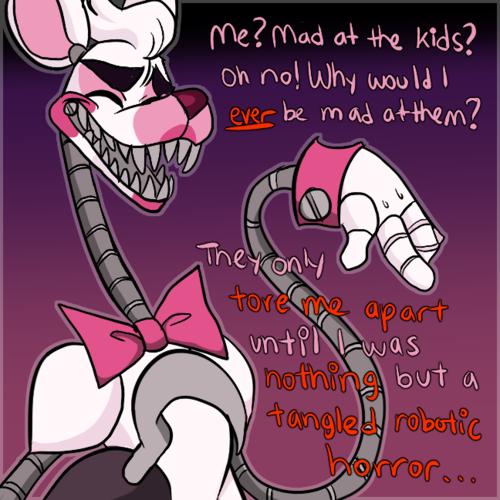 Mangle caused the bite of 87'
So many people say foxy caused the bite of 87' but i would like to propose another theory. So first FNAF 2 is a prequel. Now in fnaf 2 when mangle attacks were does she attack you? in the front of your head RIGHT around were the frontal lobe is. People say that foxy's jaw is broken so thats why. Well my friend i will tell you a story. At the end of FNAF 2 you are given an article saying that the toy robots are going to be scrapped and they are going to use the old models who are going to be repaired.
So maybe foxy is still being repaired in the first game showing how he looks half finished. And the reason the scrapped the toy models is because, Mangle bit the child so fazbear entertainment was scared that the others would do the same, So they scrapped them. so you might say, Well it could have been toy bonnie freddy or chica. But mangle was torn apart by children and i think one of the children was trying to tear a piece of her off and she bit their frontal lobe off. Also the out of order sign in fnaf 1 could just be they are not finished repairing foxy. Thank you for listening to this theory :D leave a comment and rate if ya like the theory! And if you have anything else to say that wasn't mentioned go right ahead and say it!