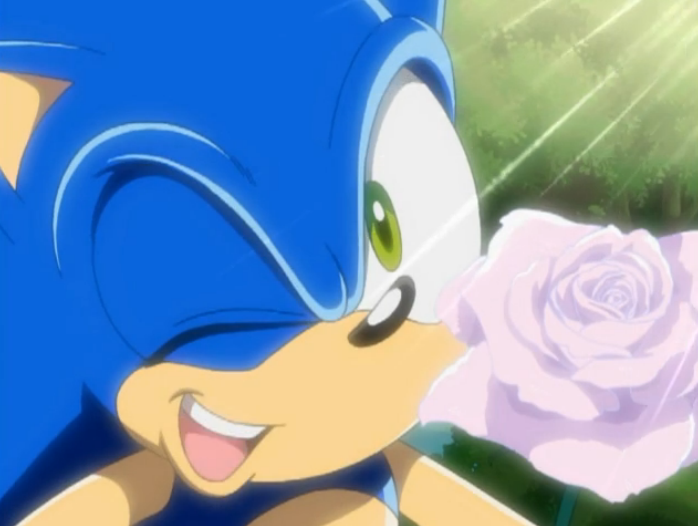 Sonic's couples. (I will not be doing a Shadow couples because some of those are more...adultish...and yeah. :DU)
Alright lets hear my opinions. I'm actually going to start with Sonic X Blaze for this one reason. If you know me then you know that Sonic Rush Adventure was my first Sonic game EVER. Because of this I was really unaware of Amy and Cream and ect. So the four characters I knew about the most were Sonic, Blaze, Tails, and Marine. Also two years ago I watched The True Sonaze Love Story and I fell in love with it because it was so cute. I don't watch it anymore honestly because I've lost interest for it and just she was taking to long to make videos during the time so yeah. I do think Sonic and Blaze are good together but they are not my favorite because I think Blaze would be better with someone else honestly but I do think they are good friends.
Next is Sonic and Amy. While I personally HATE Amy I do think she and Sonic are the best couple foreva eva. They are just adorable because in Sonic X Amy is making cakes, trying to get Sonic's attention and he saves her from Eggman. Its really cute and in Sonic Boom its official that Sonic likes Amy, so yay for me. Also because Sonic is blue and Amy is pink I think the people who made Amy were going to have her be Sonic's girlfriend.
On to two couples with Sonic that I hate. Sonic X Sally and Sonic X Elise. I think you all know why I hate Sonic X Elise so I'll get that out of the way. Sonic X Sally okay this is the thing. I F*CKING HATE SALLY! I do not like the comics at all or that show with Sally in it. I like Sonic Underground because its cool to see Sonic on a rocking guitar. The reason I hate Sally is because Rouge walks around Mobius IN CLOTHES and she gets called a sl*t but Sally goes tromping around NAKED and everyone's just like "oh yeah that's okay". Also I heard from a lot of sources that Sally tried to force Sonic into marriage. Okay I know Amy is a little crazy but she never did anything like that. (I'm not sure if this is true but if it is then please let me know). Also if you know the way Sally was potrayed in The True Sonaze Love Story before she died you can kinda understand my hatred. Also when my dad bought me the old comic series in one book I literally burned it.
My last one is Sonic X Cream dear god. When did Sonic become a pedo? Seriously let me take a look at the internet to see when Sonic became a f*cking pedo! I actually almost forgot Sonic X Rouge and Sonic X Sonia. Okay Rouge is better off with Knuckles, I'm personally saying this now so yeah. With Sonic X Sonia I am not joking there are people who ship that. That's like shipping Mable and Dipper. (forgot their couple name is it Pincrest? or something?) When I was new in the Sonic Underground series I didn't know that they were brother and sister so I thought it would've been cute to see them but when I found that out I got rid of the thought because I KNEW THAT WOULD BE WRONG.
Anyway after this the next chapter will be on Silver's couples. I won't be doing Shadow's couples because there's a LOT of dirty Shadow couples and most people will just about pair Shadow with ANYONE. I am not joking when I say this. I've seen REALLY bad fan art.