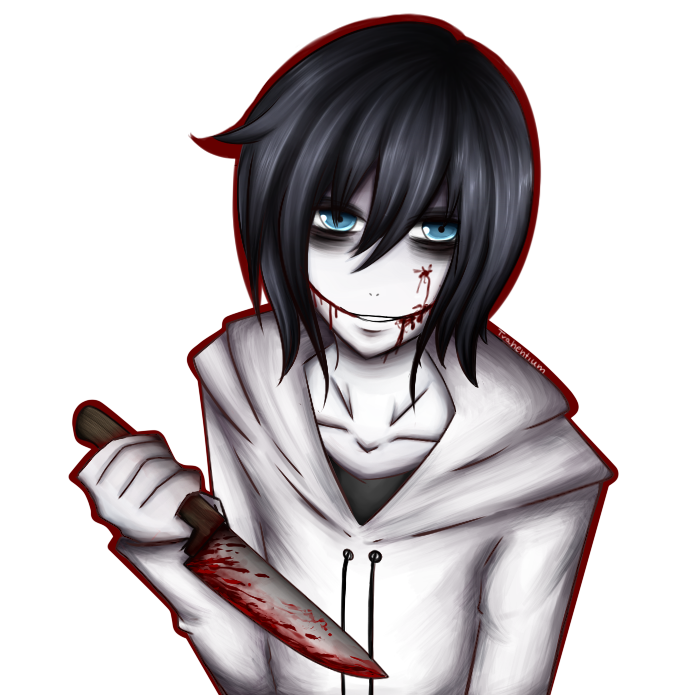 Mentors and Training
Luna POV
I watched as people poured into to the room all of them looking towards me as whispers bounced off the walls surrounding us all. I watched as Slender stood tall QUIET his voiced boomed! Introduce yourselves he said. A female stepped forward she was in a long black dress I'm Jane, Jane the killer. A male with a cut smile and bloodstained hoodie, he had long black hair falling into his ice blue eyes creating a mysterious but hot look on him ; stepped forward next a big black and red dog and tiny red and black cat following I'm Jeff, Jeff the killer this is Smile dog and Grinny cat. I went through a ton of other people. But my favorites would have to be L.J, BEN and Sally. Or as I call them the Hot, the glitch and the child. Everyone seemed to have their own quality attributes. As BEN could travel through games and Slender could teleport, Jeff was just insane as was Jane. E.J. Was a cannibal, L.J was a clown, Sally was the child of the group. And though they hated one another Smile dog and Grinny cat disliked the Seed Eater all together and often liked to stay away from him. Last but not least The triple team of masky hoodie and ticci Toby. And Toby's girl Clockwork. She seemed nice. Stepping back, Slender's voice rang out again Luna shall be Jeff's proxie. Jeff's?! An uproar of voices and an air of confusion swung through the room. A furious L.J jumped forward why?! She was supposed to be my proxie he snarled. He was pissed. Slender voiced his thoughts as he swung his blanc face towards L.J. You would not train her properly. "You are locked into wanting to have her for your own. You would not train her you would guard her. If Luna is to become a Creepypasta she needs to learn how to Attack as well as defend herself. You would fight for her, not with her. You would guard her, not let her defend herself. This is why Jeff shall teach her. You begin training at once. You shall have no contact for month that you shall be gone for training." Slender stated leaving no room for any sort of argument. Nodding my head Jeff glanced at me and told me to go pack.
------ timeskip brought to you by Smile dog and Grinny running from seedeater ------
Luna pov
It was my last day of training! I was so stoked! Tomorrow I'll be a creepypasta and I'll see L.J again! Dodging Jeff's knife that was coming towards my face. I swung around darting up the tree, and doing a backflip running back towards Jeff taking his feet out from under him surging up his chest and slamming my head into his before we both crashed to the ground with a thud rolling so that I was on top and letting my sword rest at his neck. Death comes When the stars shine bright. I stated my saying with a smile. He leaned forward and all of a sudden everything surged. There was a flash of movement and black and grey and then Jeff was being picked up and thrown across the clearing. One overly pissed off L.J. was in front of us. Punching Jeff in the face spinning him to the ground. Jumping up I got between them, what the hell was that Jack?! He was going to flipping kiss you he snapped at me and by the looks of things you would have enjoyed it too! Oh my god! He thought We were kissing..... Jack i stated stepping towards him we were just fighting! Oh.. L.J. Said a look of understanding flitting across his face. Sorry he said to us as he pulled Jeff from the ground. Slender sent me to get Luna it's time she became one of us he said. Looking back, Taking one last glance at Jeff before we started our long journey back home.