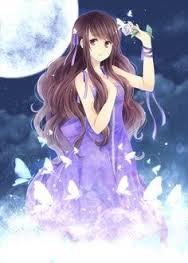 A New Image and a Botched Job?
I was so bored. I had nothing to do here! Watching Soul Eater was now my only source of entertainment. Ironically, I just could't get enough of the show where people eat evil souls. I mean, apparently, the Devil's Daughter should be evil, right? That's kind of part of the job. I really don't like it down here, but, oh well. What can ya do? I just wish that Dad would stop trying to get me to take over the family buisness. The little private joke is though, I'm already training to become a reaper. Poor little Devil, boo hoo. The funny thing is that mortals and most immortals don't know that mangas and animes are real. They just exsit in different dimensions. If only I could get my stupid necklace off! It's the only thing stopping me from leaving this place and going to Soul Eater! It hinders my powers and makes it so that Dad is alerted if I even try to use them. Ugh! I paced my enormous room. My plans of escape seemed extra desperate today. I came up with several plans.I decided to go with plan A. It seemed to be the better coice and fire can melt the chain. I nodded and gave a satisfied nod to myself and put the plan into action.
"Yoo-hoo! Guards! Can someone build me a fire please?" I made my voice sugary sweet and lethal. The guards outside grunted and rang the bell for my maid, Michiko.
***Timeskip***
A large fire roared in my fireplace grate. I picked up a piece of coal from the edge and wrapped the necklace chain around it. The heat was extremely uncomfortable and it took a couple minutes to fully melt through the chain. I picked up the ruined necklace and stuffed it into my dress pocket. I grinned evilly, a trait I had picked up from my dad. Finally! Freedom!!! I put on a purple dress (like the one in the pic above) and got out my blue satchel. I stuffed some extra clothes and the necklace lump into the bag and slung it across my shoulders. I got my energy stored up for the portal. I hope it worked...
I stilled my breath and brought my palms together, chanting,"Dakos Merin Shallma Corlam Espe!" I forced my palms apart and drew a circle in front of me. My signature blue portal appeared in front of me, wavering a little. I looked at it nervously and gulped, hoping I did it right. If not, well, who knows where I could end up? I hesitated once more before jumping in. A gut-wrenching pain went through me as I fell towards the end. Nope! Nope! Got to get out of here! Something went wrong!
"Aaaaaaaaahhhhhhhhhhhhhh!!!!" I screamed in pain and then stopped, the breath knocked out of me by landing on something hard. I looked down and saw a pink-haired boy and a blue cat. "Wait!? Natsu!? Happy!? Awwwww, shit..." I was trying to go to Soul Eater. Damn. What now? My powers were gonna be on the fritz for at least a week. Natsu groaned and said,"Gerrof.." I noticed I was still sitting on him. Whoops. I got up and offered him a hand. As soon as he got up, I went down to the lake and saw my reflection in the water. My hair was now long, brown, and wavy. I sighed. I had to go contact Porlyusica and see if she knew how to get me back. I started to walk away when Natsu called out,"Wait, who are you?"