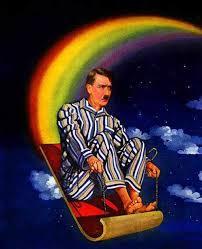 Hitler Rides A Magic Rainbow Carpet
OH LOOK says Hitler the Allmighty Powerful Bastard.
A MAGICAL rainbow carpet just for meeee!
I will ride it down my pile of unicorns.
Weeee! Hitler soars into the sky until he reaches the stars!
Magical pony machetes! shouts Hitler
Mmm... Spaghetti is made out of salty cheese trees exclaims Hitler.
Potatoes Tomatoes Yamatoes Lemonatoes are tasty on salty cheese trees...
Kangaroo BARF. I can reeaaadddd see? This says flubadubba popplewopple qwertawerta snurbdurble snurbdurby!
Dogs are slimyyyyyy.
*Parent closes book* AND THATS HOW BABIES ARE MADE!