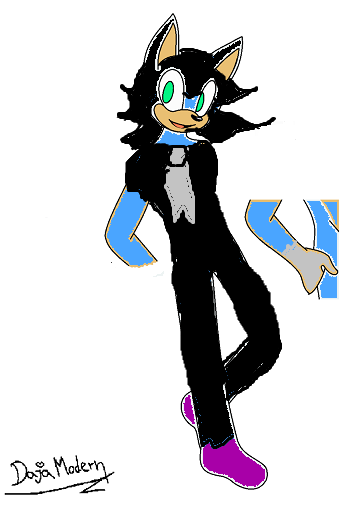 How it started,How it ended (Picture is Eliot)
How it started
Eliot: This all happened after Coy, Mario,and Larry and I graduated. We competed in a show called Mobius Got Talent. And Well we won. We won 50 grand. Our act was called Magic Devils because me and Coy were the magicians and Mario and Larry were basically the daredevils. But Sometimes we would switch it up. It all ended.
Coy: I'll tell you how it ended. We were just about to preform on stage,when all of a sudden Cops had arrested us. We didn't do anything. They said we looked exactly how these booting bandits looked like. They showed us a picture, and they looked exactly like we do. These Mobians by the name of Sonic and Sapphire secretly let us out. They new who the REAL booting bandits were. And we all went back to our homes for safety,since cops were still after us. I am at my old carrot farm by the name of Vegetable Garden. Yeah,we ship fresh veggies to stores. I'm not sure where everyone else is.
5 YEARS LATER
Eliot: * Wakes up in peace* "Well, That was a great dream." * Changes out of tank top,into a black suit with a grey fake tie* * Walks out of cheap apartment in the street where Sonic and Sapphire live* * Poster hits face* "What the?! What is this?"
POSTER: WANTED MAGIC DEVILS
REWARD ONE MILLION DOLLARS
NAMES: COY, ELIOT,MARIO,LARRY
POLICE STATION NUMBER: 740- 2889-4316-904-
Eliot: * Rips poster and throws in puddle* "Screw these cops! I'm Finding the "team" and telling the whole planet of Mobius the real TRUTH! Sonic and Sapphire can help!" * Grabs suitcase from apartment and catches a cab to the airport.*
12 HOURS LATER
Eliot: *Grabs cab to Vegetable Garden Farm*