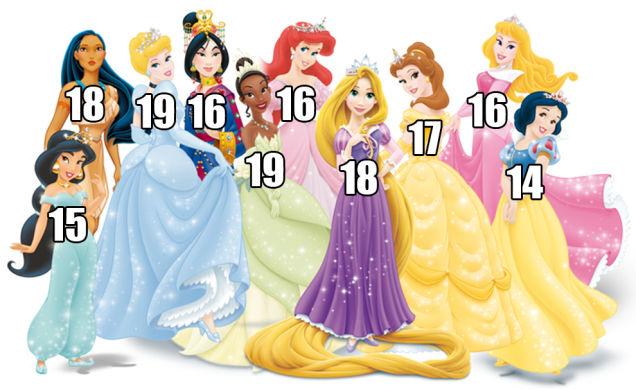 The Negatives and The Positives
The Negatives:
First off, I want to start by saying I do love these movies and enjoy watching them still but I have strong opinions on them too. I am a strong feminist and these are merely my opinions, so please, no hate mail.
I have noticed with every princess, thy find their true love. I'm not going to be like any crazy feminazi and be like "That's so wrong! Girls don't need a man to be strong!" I agree with that but these movies were designed for young girls and most young girls want to find the love of their life. Now my problem with the whole love stuff is THEY GET MARRIED AFTER THREE BLOODY DAYS USUALLY. That's just weird and wrong... It takes time to fall in love. Sure love at first sight is a romantic notion but does it really need to happen to every girl! What happens in most real life situations with love at first sight is divorce.
Also, their age! SNOW WHITE WAS 14! That is MY age! The picture shows the rest of the ages. That's insane! Why can't you be 23 when you get married! I mean 14 is too far.
I know this may sound faminazi-esque but they're all pretty. Again, I understand these are made for young girls whose dreams are to grow up to be super models but that's just not realistic. I just want one ugly princess or one who isn't perfect...
The Positives:
First off, who doesn't love the Disney girls?! The do show a good personality and show that morals are very important to success. Each one represents something (I will get into this in just a moment).
I do like the princesses because they do inspire little girls and have entertaining tales. They're also good to explain things to younger ones. Most impotantly, Disney World! Just kidding. I could never be hateful towards the princesses as they are an inspiration and role model to little girls.