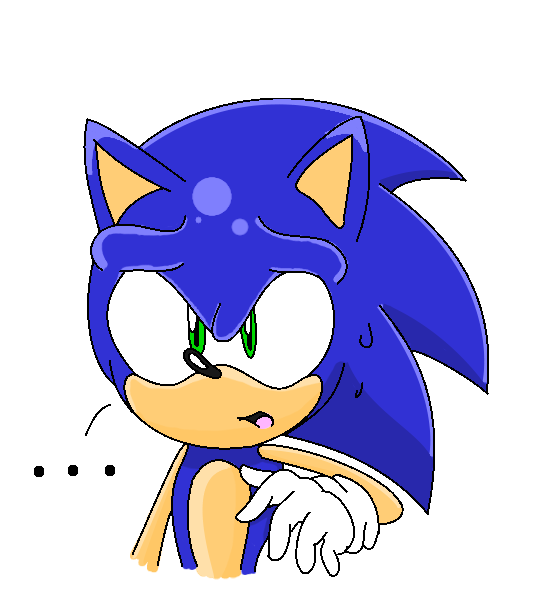 What happened here?
Sonic P.O.V
We were all hanging out on Aj's ship which she totally said we could use. Anyway so we just got done breaking up a fight between Knuckles and Shadow again. So we just decided to chill and watch a movie. I really liked the movie cause I was in it. Although there was one thing I didn't like. I didn't like the fact that we were on a boat. I hate water. Alexis knocked me unconscious and she and Sapphire dragged me on the boat. I was still mad at them for that. I smiled and ate popcorn smiling till we all saw a weird white flash from outside. We all ran outside and saw Eggman. "What are you doing here!" Bailey yelled growling. Eggman smirked as we all saw a white flash then nothing.
Silver's P.O.V.
There was a weird flash and I was falling into the ocean. I stopped myself just as my feet hit water. I looked around thinking. "Where am I?" I looked at the ocean beneath me. "Silver!" I turned and saw Sapphire who was on a small island. "Hey Sapphire," I said landing next to her. "Have you seen the others?" She asked looking at me. I shook my head no. "We better find them fast," I said looking at her.
Chris' P.O.V.
I was on my way to meet Danny when something bumped into me. I looked and saw Shadow. Wait Shadow? I thought he was dead. He looked back at me strangly. "Chris nice to see you again buddy," Sonic said walking over to me. I hugged him smiling. "Sonic! Its so great to see you again!" Sonic hugged back smiling and Shadow looked in a different direction. We saw a few G.U.N solders chasing a girl with black fur, red eyes and hair, bat wings, and a purple shirt with black skirt. "Come back here," a solder yelled. Shadow looked at her and smiled. "Alexis!" I looked at him confused and Sonic glared the agents. "Step back Chris," He said pushing me back. I nodded looking at him.
Alexis' P.O.V.
I was running away from those crazy G.U.N people. I turned to face them as Sonic and Shadow walked up to my sides. Sonic looked at them. "Don't hurt her, she's my friend", Sonic said giving me a friendly smile. I smiled back and the G.U.N agents stared at Shadow shocked. I wondered why. Shadow just glared them and they left. Weird. I looked at a weird human boy who just stared at me. I looked down embaressed. "Who are you?" Sonic smiled at me. "Chris this is my friend Alexis." "I'm Alexis the Hedgebat," I said shaking his hand. He smiled at me as an older man came out with a tape measure. "What creature are you?" He asked measuring my wings. "Great now I feel like a literal labrat," I thought miserably. I looked up and saw a familiar figure in a tree.
Bailey's P.O.V.
I saw a little girl staring at me. "Pretty kitty," She smiled pointing to me. Her mother just stared at me. I looked at both of them confused. I looked around and fell out of the tree. "Ow," I complained getting up. Tails walked over to me. "You alright Bailey?" I nodded. "Where are we?" "Were on Earth," Tails said looking at me. I looked around again and saw Sonic, Shadow, and Alexis. "Hey guys," Alexis said waving over to us. We both walked over. "Hey Alexis," I smiled. She smiled back at me as an old man measured her wings. "Are you friends with Sonic?" A boy asked. "Hi, I'm Bailey the Cat," I introduced myself shaking his hand and smiled. "We need to find the others," Shadow said looking at Tails. Tails nodded.