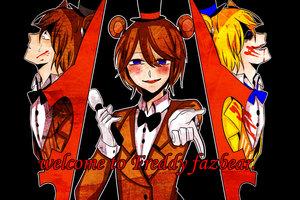 The legend of Freddy Fazbear's Pizza
"They say on a dark night, five children come to the Freddy Fazbear's Pizza, trick there by a man. He was a security guard who they say he had gone crazy. He had killed them in the back room. The next day he was taken to jail but they say the children still alive. Living in the mechanical suits in the back but they are not friendly. They wait each night to have someone replace them. Taking the new security guard and try to kill them, thinking they are the one who killed them. They say if six children stay six hours, one by one a child with die and be put in there place, but the last child will be haunted the rest of there life seeing the other children dieing and in the suits and will never escape the horror."
"Cool story, Franco, but do you think it's true," said Finn
"Maybe, what do you think Bernice," said Franco.
"I think we sudden try it out," Bernice replied.
"Are you crazy," replied Loran.
"I don't know it seems like fun," said Casey.
For you see the six friends sat around as Franco told the story. Casey, Finn, Bernice,Franco, and Fortuna were all adventure seekers but there one friend Loran was always talking them out of it. But they would not be talked out of it," Tomorrow night we will go there and survive proving it's fake," said Finn
"I don't know," replied Loran
"Come on what is the worst that can happen". If only he knew what was to happen.