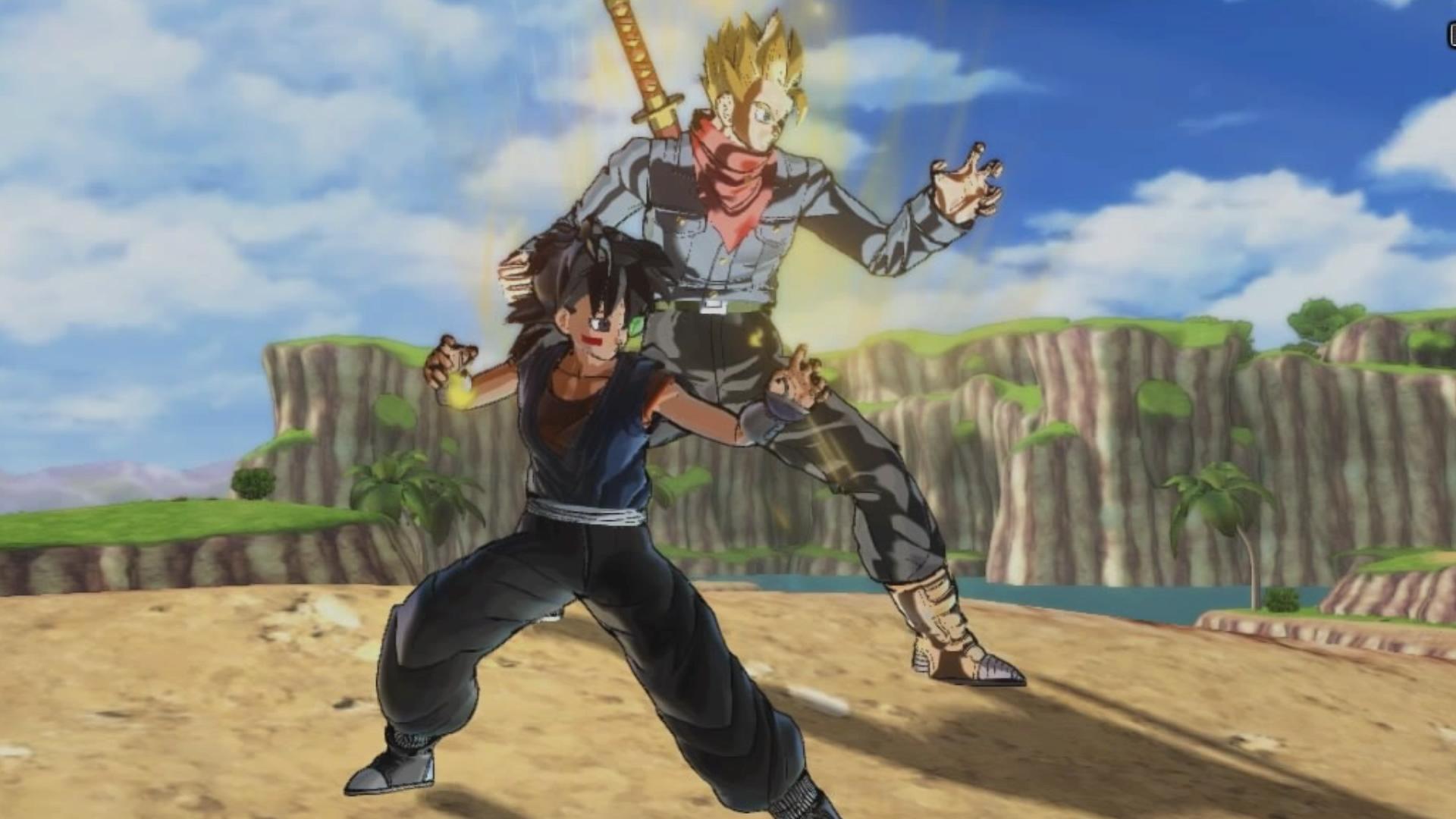 The start
Sally was a simple Saiyan woman. She enjoyed the thrill of a fight. She joined the Time Patrol for that reason. She was a small Saiyan with hair nearly bigger than her was an tease that people threw at her. However, it was her first mission on the Time Patrol where her life would change. She was coming through the portal, the shiny glow setting her in place on earth, she was sent to fight a out of place Bardock, he had be misplaced in time and had dark powerful energy flowing through him. She was landing on the ground looking around, she couldn't see him anywhere. "Argh, dropped me in the wrong place ag-" She could sense someone coming towards her. She readied herself in preparation for a fight. What she got was another Sayain. Short black spikey hair. He was wear attier similar to what Goku would wear in his early days. He landed in front her as she relaxed herself. "You're not from around here" She guessed.
"Time Patrol?" He'd asked her.
"Yeah, what about it?" She questioned. "I'm guessing you are too?"
"Yeah, it's Freddie" He said simply.
"Sally" She smiled. They both turn their head sensing a dark energy heading right for them. They both prepared themselves. It was then that Bardock landed in front of them at high speed. Freddie didn't hesitate, he straight up rushed down Bardock. The right hook only being Blocked by Bardock, Sally followed up, she charged up a blast in her left hand, snap vanishing behind Bardock. Bardock kicked Freddie away and turned to Sally. Sally fired a wide and short blast. The blast forced a hole open in the ground. She lowered her hand only receive a kick to the side of her head. Bardock had gotten behind her and done so. She recovered with a quick flip with a push of her hand on the ground. Freddie looked at her and rushed down Bardock again, Sally followed. Bardock came after them, only he snap vanished behind Freddie and in front of Sally, he shot a blue beam like blast at her. She wasn't ready for it and it hit her directly, knocking her back into a hill. Freddie turned around and sent a kick to Bardock. Bardock was more than ready and turn around and swung a punch. A high speed clash came about between them. The fast pasted punches and kicks. Sally was standing up only to get knocked back down by Freddie who had been knocked into her. They both got up slowly.
"Argh!" Sally yelled, a red aura surrounding her. "Kaioken!" She fired up and once again rushed down Bardock, finally getting the first blow as she hit him around the side of the head. She carried on, moving behind Bardock as he flew back, sending both her feet into his back, sending him back the other way. She went forward only to getting her fist grabbed by Bardock, he then placed his hand in her face and blasted her with a dark energy blast. This dragged her greatly due to the Kaioken pressure. She hit the ground and struggled to get back up, Freddie grabber her arm and helped her up.
"Alright, them to get real about this" Freddie added. He moved forward and looked at Bardock. His energy growing quickly. "Arghhhh, arrrr!" Freddie's hair suddenly went golden, he had gone super Saiyan. Both Bardock and Sally were slightly shocked. Freddie went after Bardock and Bardock followed up. Their fists smashed together, a small creator in the ground as they did. They stayed there for a second before disappearing. They were rushing around and trading blow for blow. Freddie would block and counter and as would Bardock. Sally stood there and no just watched. She had to do something. She found her chance as Bardock and Freddie knocked one another away. She smiled and put her hand together, a blue ball of energy charged up, she was charging up a Kamehameha. Freddie smirked and snap vanished away. Bardock face filled with shock as Sally fired the Kamehameha wave with a loud scream. Bardock blocked it, placing his arms out in front of him. Freddie stood beside Sally, firing his own Kamehameha wave. The blasts combined but Bardock still barely held out. "Come on! Body don't let me down! Kaioken!" She yelled as her blast got twice as powerful, the blast finally breaking Bardock's guard. Sally and Freddie let up their blast, stood there panting, Sally's body pulsing slightly.
"We got him" Freddie said.
"Yeah...So...Super Saiyan..." Sally said slowly. "Care to...Share?"
"No, not really" Freddie said as the shiny light that entered then, took them back in. Sally was now determined to obtain Super Saiyan.